Delay your flu shot until three days after you finish your corticosteroid prescription. The main reason is that steroids could weaken your response to the vaccine, making it less effective.

Make sure that you get your flu shot ASAP afterward, as it takes about two weeks to kick in. Once it does, it's about 70% to 80% effective in preventing flu hospitalizations and fatalities.

Continue Learning about Cold and Flu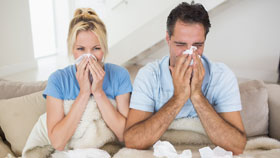 Colds and flu are both viral infections, but have different symptoms. With a cold you will have symptoms such as a runny nose or a sore throat. Flu symptoms come on suddenly and may include fever, body aches or vomiting. While the...
re is no cure for either, there are treatments -- chicken soup, nasal sprays, rest -- which can help your feel better.
More