Milk and dairy products most likely do not increase cold congestion. Experts once thought that milk made the body produce more mucus, but research has found that's not the case.

Be sure to drink plenty of fluids when you have a cold. Experts recommend at least eight glasses of fluid a day.
People often avoid milk and dairy products because of this belief, but it's not true. One study found that cold sufferers who drank milk didn't secrete any more mucus than those who didn't drink milk. In fact, the National Institutes of Health suggests that cold sufferers eat yogurt because the bacteria helps boost the immune system.
Continue Learning about Cold and Flu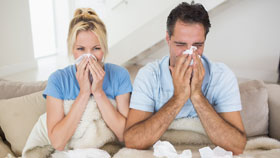 Colds and flu are both viral infections, but have different symptoms. With a cold you will have symptoms such as a runny nose or a sore throat. Flu symptoms come on suddenly and may include fever, body aches or vomiting. While the...
re is no cure for either, there are treatments -- chicken soup, nasal sprays, rest -- which can help your feel better.
More