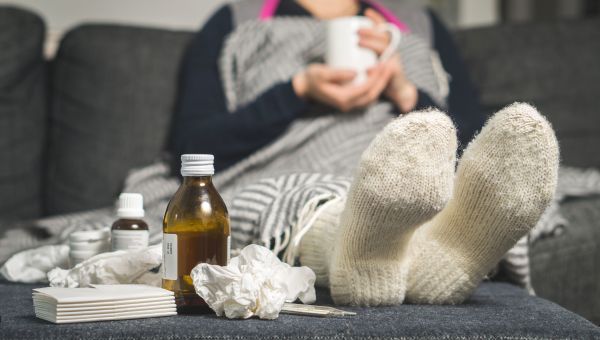 After a harsh season, the illness has finally dropped off—but cases of a second strain are still being reported.
If you haven't already received your flu shot, it's still not too late. Though overall influenza activity has dropped greatly, we're not quite finished with the 2017-2018 flu season—one of the worst for the disease in some time. At least 142 children have died of the flu, and over 250,000 cases have been reported to the Centers for Disease Control and Prevention (CDC) so far, mostly relating to the influenza A (H3N2) virus.
Now, a second strain of the flu called influenza B is making headlines. And again, while all new cases of the illness have plummeted, influenza B currently makes up a bigger proportion of new diagnoses than influenza A. What's more, you can catch it even if you've already had influenza A. Since flu activity is predicted to remain elevated for a few more weeks—possibly into May—it's something to be aware of.
Prelude to a bad season
Hundreds of thousands of Americans are hospitalized for the flu every year, and the illness results in between 12,000 and 56,000 deaths annually. Paired with pneumonia, it's the eighth-leading cause of death in the US, right behind diabetes. Globally, there are up to 5 million severe cases of the flu each year.
One of the strongest signs the US was in for a rougher-than-usual flu season came from Australia. The country reported more than 215,000 cases by mid-October—almost four times as many as it did during 2009, which was considered an epidemic. Many were diagnosed with the influenza A (H3N2) virus and the vaccine was only 10 percent effective, meaning recipients' risk was slashed by only 10 percent.
That same influenza A virus hit the US in late 2017, though the vaccine has been slightly more successful; the effectiveness was at 25 percent as of February 2018. According to the CDC, vaccine efficacy for influenza B is around 42 percent, meaning more people should be protected.
What to look for
Symptoms of the flu include chills, body aches, fatigue, high fever, runny nose, cough and sore throat. If your child is running a high fever, call your doctor and ask if you should visit an emergency room; breathing issues, fatigue and confusion are also red flags. Once you've contracted the flu, the illness usually lasts up to two weeks, though some may feel the effects for a long time afterward.
The flu is most dangerous to pregnant women, seniors, people with long-term health problems, and young children. Of the 142 flu-related pediatric deaths so far this season, about half had been healthy beforehand. Deaths among other age groups are rarer, though not unheard of.
How to prevent the flu
The best way to keep from developing the flu—and health experts are crystal clear about this—remains the vaccine, which the CDC says saves thousands of lives every year. A majority of the children who have died this season did not receive a flu shot. Even if you contract the flu, your symptoms may be less severe, and the disease can run its course faster.
Worried you're too late? Don't be. There's still time, and no reported shortage of medication. Reach out to your doctor, email your human resources department or contact a local pharmacy or urgent care center for information. Children should get flu shots, and not the nasal spray vaccine, which isn't as effective.
In addition to the vaccination, be sure to wash your hands as often as you can—especially if you're around someone who's sick. Cover your mouth with a tissue or your arm when you cough, keep surfaces clean and don't go to work or school if you become ill. A little awareness and precaution can help you escape this year's season unscathed.
Medically reviewed in February 2020.