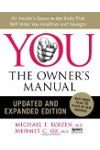 Stress is the greatest ager of your body in general, especially the nagging, unfinished-tasks kind of stress that hangs over you day after day, or the stress of things that are out of your control (as opposed to the acute stresses-having a flat tire or adjusting to a traffic jam when you are in a hurry-that eventually get fixed).

We don't fully understand the mechanism of how emotional stress produces physical stress, but we know it is a powerful connection: In the United States for the 30 days after 9/11 (compared to the 30 days before), heart attacks increased about threefold in Washington, D.C., and New York-and even threefold in Missouri, Chicago, Kansas City and Alabama. Three major life events or sets of unfinished tasks can make you more than 32 years older in RealAge.

Just as chronic stress can damage your heart, actively working at reducing stress will keep your heart healthier. Therapies like meditation and relaxation techniques can teach you how to tolerate the stressful elements in your life-the tough boss, the rebellious teenage daughter, the dog hair on your suit-and how to tone down your body's physical response to stress (the racing heart, the stress hormones). Some people also find great stress relief in social contact, religious devotion or involvement, even playing with a pet. Find whatever refocuses your attention, and give time to it. The most consistent stress reducers that also help with depression and anger are exercise, meditation, and nurturing friendships.