Exercise reduces your risk of heart disease by reducing body weight, blood pressure, LDL (bad) cholesterol, and by increasing HDL (good) cholesterol and insulin sensitivity. It also improves cardiac output and stamina.
Studies show that people who often engage in leisure-time physical activities, such as taking a bike ride or a brisk walk, have a lower risk of heart disease compared with those who spend their free time less actively. Two hours per week of easy fitness activities may decrease your heart disease risk by as much as 61%. That's right: Playing like a kid can help you stay young.
Your body will adapt to whatever you give it physically and this includes the cardiovascular system. If you spend your free time sitting around on the couch your body will adapt by getting weaker because it has no need for strength to just sit on the couch. If you spend your free time exercising at any level your body will adapt to that level of exercise. Your heart is just like your other muscles whereas when you work them they grow stronger. If you want bigger, stronger arms you will do arms exercises and then your arms will grow. If you want a bigger, stronger heart you will do exercises that work your heart. This can range from power walking to swimming laps and all exercises in between. When you stress your cardiovascular system it responds by growing stronger while you sleep.

As a trainer I like to say, "if you embarrass your heart by tiring it out, it will spend the night growing stronger because it doesn't want to be embarrassed during the next work out." So, it's a good idea to start slow and get your heart stressed out for just a few seconds at a time and research has proven over and over again that your cardiovascular health will improve. It's a scientific system that works for most but it's crucial that you have physician clearance before attempting to "embarrass your heart."
Just like you must lift weights and exercise to keep your muscles strong you must also do cardio to strengthen and build your heart and lungs. By placing a demand on your cardiovascular system it adapts to the higher demand that you place upon it. These adaptions can include a higher stroke volume, lower blood pressure, and a lower resting heart rate among other things.
People who exercise regularly have significantly less cardiovascular aging and are at far lower risk of heart attacks, strokes, and impotence, regardless of their genetic background. By keeping your arteries young, you increase the ability to provide more nutrients to all of your organs, and that makes you less tired, or conversely gives you more energy. Exercise lowers blood pressure, raises the level of protective high density lipoprotein (HDL) cholesterol, stimulates weight loss, decreases inflammation and helps prevent blood clots.

The Harvard Alumni Study found that the incidence of heart attack was inversely proportional to the amount of exercise performed: Men exercising less than 2,000 kcal a week had a 64 percent higher risk of heart attack than those who exercised more than that. Exercise significantly decreases the feeling of stress, abdominal fat, inflammation in blood vessels, and blood pressure. Thus, physical activity decreases the greatest causes of arterial aging, including stress, the greatest ager of all. Even a little exercise does those good things and more.

Studies have also shown that a three-month period of intense physical activity, such as that experienced by military recruits, can increase HDL ("healthy") cholesterol as much as 33 percent and decrease in low density lipoprotein (LDL -- "lousy") cholesterol as much as 9 percent. Exercise is one way to control cholesterol without medication and to make your RealAge (physiologic age) younger. Even non-intense exercise has relatively immediate and long-lasting benefits. In the Cardiovascular Health study, individuals who did any physical activity, even 20 minutes of walking daily, had a 19 percent lowered risk of heart attacks and strokes, and all cause mortality.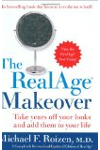 As cardiologist Dr. John Mandrola likes to say: "You only have to exercise on the days you plan to eat!" And not only is regular physical exercise good for warding off heart disease, it's even better for those of us already diagnosed with heart disease.
Consider, for example, the research of Dr. Rainer Hambrecht in Germany. His work has suggested that patients with significant coronary artery blockages actually do better in long-term follow-up studies when they participate in regular exercise programs compared to having invasive cardiac procedures done to help revascularize those blocked arteries (including angioplasty or stents).
His landmark research, published in 2004 in the cardiac journal Circulation, showed that:
over 90% of heart patients who rode bikes regularly were free of heart problems one year after they started their exercise regimen
among patients who had an angioplasty instead, only 70% were problem-free after a year
Five years later, Dr. Hambrecht presented findings from additional follow-up research to the 2009 European Congress of Cardiology meetings in Barcelona, confirming his earlier results that regular exercise training is superior to angioplasty at preventing subsequent cardiovascular events. But he said at the time: "It's difficult to convince people to exercise instead of having an angioplasty, but it works."
Exercise is the best method for reducing heart disease risk; it decreases blood pressure, heart rate, risk of diabetes, and helps control weight. Watch cardiologist Suzanne Steinbaum, DO, discuss the benefits of exercise for heart disease prevention.
More than 50 years of research shows that the people who are the most physically active are only half as likely to develop coronary artery disease as the most sedentary people. And the benefits accrue in a dose-response manner: the more physically active you are, the lower your risk for heart disease. What's more, regular physical activity raises high-density lipoprotein (HDL) cholesterol levels, reduces triglycerides, lowers blood pressure, burns body fat, and lowers blood sugar levels. When combined with weight loss, exercise can also lower low-density lipoprotein (LDL) levels. It also helps alleviate mental stress, which can be a trigger for heart problems. Following a heart attack, an exercise-based rehabilitation program can reduce the likelihood of dying from heart disease by one-third.
Studies suggest regular exercise can significantly reduce your risk of heart disease. Physical activity lowers your blood pressure, increases the amount of "good" cholesterol in your blood, and reduces the tendency of blood to clot. Aerobic exercise -- any exercise that makes the heart and lungs work harder to supply the muscles with oxygen -- is a great way to strengthen your heart.
Continue Learning about Heart and Circulatory System