People who exercise regularly have significantly less cardiovascular aging and are at far lower risk of heart attacks, strokes, and impotence, regardless of their genetic background. By keeping your arteries young, you increase the ability to provide more nutrients to all of your organs, and that makes you less tired, or conversely gives you more energy. Exercise lowers blood pressure, raises the level of protective high density lipoprotein (HDL) cholesterol, stimulates weight loss, decreases inflammation and helps prevent blood clots.

The Harvard Alumni Study found that the incidence of heart attack was inversely proportional to the amount of exercise performed: Men exercising less than 2,000 kcal a week had a 64 percent higher risk of heart attack than those who exercised more than that. Exercise significantly decreases the feeling of stress, abdominal fat, inflammation in blood vessels, and blood pressure. Thus, physical activity decreases the greatest causes of arterial aging, including stress, the greatest ager of all. Even a little exercise does those good things and more.

Studies have also shown that a three-month period of intense physical activity, such as that experienced by military recruits, can increase HDL ("healthy") cholesterol as much as 33 percent and decrease in low density lipoprotein (LDL -- "lousy") cholesterol as much as 9 percent. Exercise is one way to control cholesterol without medication and to make your RealAge (physiologic age) younger. Even non-intense exercise has relatively immediate and long-lasting benefits. In the Cardiovascular Health study, individuals who did any physical activity, even 20 minutes of walking daily, had a 19 percent lowered risk of heart attacks and strokes, and all cause mortality.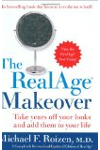 Studies show that people who often engage in leisure-time physical activities, such as taking a bike ride or a brisk walk, have a lower risk of heart disease compared with those who spend their free time less actively. Two hours per week of easy fitness activities may decrease your heart disease risk by as much as 61%. That's right: Playing like a kid can help you stay young.
Continue Learning about Heart and Circulatory System