Sometimes cancer survivors experience slight changes in their ability to remember or concentrate well after they have received chemotherapy. This very mild form of dementia is sometimes called "chemo-brain." Even these mild cognitive changes can disrupt daily living and the ability work.
Symptoms of chemo brain may include:
Difficulty concentrating
Difficulty remembering things that occurred recently
Difficulty completing tasks
Confusion
Inability to think clearly
Patients undergoing chemotherapy coined the phrase chemo brain long before doctors began studying the problem, says palliative medicine specialist Dr. Stewart Fleishman. Learn what it is and why it happens by watching this video.
Chemo brain is a term that has been used to describe the cognitive side effects that have been associated with chemotherapy, which include unclear thinking, lack of concentration, decreased attention span, and short-term memory loss. Although cancer patients have been complaining of these symptoms for over 30 years, physicians have only begun to systematically research this issue in the past few years.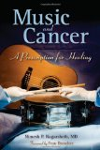 More About this Book
Music And Cancer: A Prescription For Healing
From diagnosis to end-of-life care to the meaning behind life with cancer, Music and Cancer: A Prescription for Healing is designed to improve the quality of life of people affected by cancer in a...
Continue Learning about Chemotherapy For Cancer