The major source of inositol in nature is found in the form of inositol hexaphosphate (Ip6), which is a component of fiber from whole grains and legumes and not a fiber class on its own. In the plant, Ip6 is responsible for storing minerals such as calcium, phosphorus, magnesium, and potassium as phytates. There is some concern that Ip6 can adversely affect the uptake and utilization of many minerals in the body, including calcium, iron, and zinc; however, this does not seem to be the case. Phytates are destroyed by heat and by the enzyme phytase during the leavening of bread.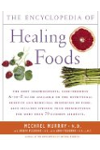 More About this Book
Encyclopedia of Healing Foods
From the bestselling authors of The Encyclopedia of Natural Medicine, the most comprehensive and practical guide available to the nutritional benefits and medicinal properties of virtually everything...
Continue Learning about Carbohydrates