Frequent eating has been shown to increase calorie consumption. In addition, scientific studies, have shown that reduced meal frequency increases the life span of both rodents and monkeys, even when the calories consumed were the same in the group fed more frequently and in the group fed less frequently. The body needs time between meals to finish digestion. Only when the digestion has ended, can the body most effectively detoxify and promote cellular repair. To maximize health, it is not favorable to be constantly eating and digesting food.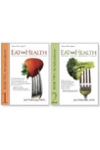 Continue Learning about Calories
Every time we talk about food it seems we also talk about calories. Calories, those numbers found on nutrition fact labels and what diets tell us to watch. Calories are really the measure of how much energy is available to our bod...
ies from what we eat. Every calorie is the same, whether it comes from legumes or lard. We burn calories from food when we perform any activity. When we eat more calories than we burn, then our bodies happily store the remaining calories as fat. Each pound of fat stores about 3,500 calories. How many calories you should have each day depends on many things, from your level of activity to your age and desired body weight.
More