Mother's milk is uniquely valuable for babies' health. Store-bought infant formula provides nutrition, but only mother's milk:
contains antibodies, substances that help your baby resist disease
provides a perfect balance of nutrients to help your baby grow and develop
protects your baby against allergies and is easy to digest
We firmly believe that breastfeeding is the best way to nourish your child. Your body knows exactly what your baby needs and puts together the best possible cocktail in the form of breast milk, which contains protein, healthy fat, sugar, vitamins, and minerals, and some protective immune fighters. Breast milk will help your child grow and enjoy good health. What might be most amazing is that the composition actually alters as your baby grows, adapting to her changing needs. And yes, there's clear evidence that breast milk helps protect against infection, allergies, asthma, and many other conditions.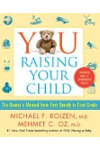 Continue Learning about Breastfeeding A Baby