If your child is having a hard time latching on while breastfeeding, it could be caused by a number of reasons. He may not be fully awake and stimulated. You can help keep him alert by removing his clothes, which will wake him up in a hurry. He also may have trouble if you have inverted nipples (that's when not enough of the nipple is exposed for your baby to latch on to). You can use plastic devices found in pharmacies that fit into your bra to help stretch the skin around the areola, which causes the nipple to poke out. If you do have inverted nipples, it's best to start using these devices in the third trimester -- though nature often works itself out, so this may not be necessary. Also, you'll want to be on the lookout for white spots that may develop on your baby's tongue. That's called thrush, a type of yeast infection that may hinder him from eating well. Thrush is easily treated with nystatin liquid. The prescription antifungal medication is administered as a 1.25 milliliter squirt onto the tongue (or tongue and cheeks if you see white plaques there too) four times a day.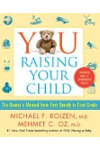 Begin by supporting your breast with your hand. Put your thumb on top and your fingers below the breast, cupping your breast with your hand in a "C" or "U" shape. Make sure that the fingers on the underside of your breast aren't touching the areola (the darker skin around your nipple).

Next, encourage your baby to open his mouth wide by tickling his upper lip with your nipple. When your baby's mouth is wide open, pull his bottom into your side and bring him toward your breast, making sure that your nipple is pointing toward the roof of your baby's mouth, in such a way that your baby's upper lip is aiming for the nipple. His bottom lip should be aimed as far away from the base of the nipple as possible. When he connects with your breast, his chin should touch first. Support his neck and shoulder with your open hand. (Do not push his face into your breast.)

With this asymmetrical (off-center) latch, your areola will show above the baby's top lip, and the baby's tongue will draw in more of the breast tissue below. Your baby's chin and lower lip will be close against your breast, with his head slightly tilted back. Don't use your finger to create an air pocket under the baby's nose -- if it seems that your baby can't breathe easily at your breast, pull his shoulder closer to you and let his forehead fall slightly away from your breast.

When your baby first nurses, there will be a tugging sensation. Listen for the sound of your baby swallowing. A clicking sound (the baby's tongue against the roof of his mouth) may mean that your baby isn't latched on well. Other signs of a poor latch-on are nipple pain or pinching. If you think the latch-on isn't right, slip your finger into the side of his mouth to break the suction, then reposition and try again. It may take several tries to get the latch-on correct.

Most babies will let go of the breast when they are finished. If you need to remove your baby from your breast to switch him to the other side, gently put your finger into a corner of his mouth to break the suction.
There is a definite skill to getting babies to latch on. Many postpartum nurses can assist you. Many hospitals have a lactation consultant on staff to assist mothers and babies who are in need of help.
Continue Learning about Breastfeeding A Baby