5 Ways to Help a Loved One With Breast Cancer
Give your friend or family member the support they really need.
1 / 6
By Christie Donnelly
When a friend or family member is diagnosed with breast cancer, many people don't know how to react—or help. What can I really do? Will I say the wrong thing? Does she or he even want my help?
While there's no one-size-fits-all answer, it's vital to support your loved one throughout diagnosis, treatment and recovery. In fact, one study showed that women with breast cancer who had support from their friends, families and even online groups had better outcomes following treatment, as well as higher rates of survival.
Not sure how you can help? We spoke with Ioana Hinshaw, MD, a medical oncologist with Presbyterian/St. Luke's Medical Center in Denver, Colorado, to learn the best ways to help a loved one with breast cancer. 2 / 6

Be present

A cancer diagnosis is scary for a patient's loved ones, too. But during this daunting time in your friend or family member's life, being present and offering to talk—about any subject, from their diagnosis to why the sky is blue—is key.

"Many people feel uncomfortable because they don't know what to say to a patient diagnosed with cancer. They don't know how to react. I've seen a lot of people avoid contact simply because they don't know what to say," Dr. Hinshaw says.

Reaching out to your friend or family member—and even saying something as simple as "I'm thinking of you" or "What can I do to help?"—can be tantamount to their mental and emotional well-being.

It's also important to ensure your loved one knows they have your support, despite changes in their mood, abilities or appearance. "The most important thing is to be there to talk and reassure them that nothing has changed in the relationship—you're there to support them," says Hinshaw. 3 / 6

Go to their appointments

After a breast cancer diagnosis, doctor's appointments can be overwhelming. Some patients are so flooded by information about their condition, treatment options and prognosis, they actually can't remember details from conversations with their doctors, according to Hinshaw.

Offer to attend doctor's visits with your friend or family member, and take notes throughout the conversations; be sure to capture minute details, so your loved one can feel fully informed about their course of treatment and prognosis.

If they're undergoing chemotherapy, sit with them during sessions. Some gossip, Netflix, adult coloring pages or board games can be a welcome distraction, and may help make the session feel less scary. 4 / 6

Help with chores

When someone is undergoing treatment for breast cancer, household chores are likely the last thing on their mind—especially in the days following a chemo session. Hinshaw says: "The first two days after chemotherapy are very hard on patients—they can use the help."

Prepping a few heat-and-eat dinners, doing a grocery run, picking up the kids from school or cleaning their house will save your loved one a few hours of work and, more importantly, the energy they need to heal.

If you're going to stop by their house, however, be sure to call or text ahead and ask for a good time. If he or she is feeling tired or under the weather, they may not be up for even a quick visit.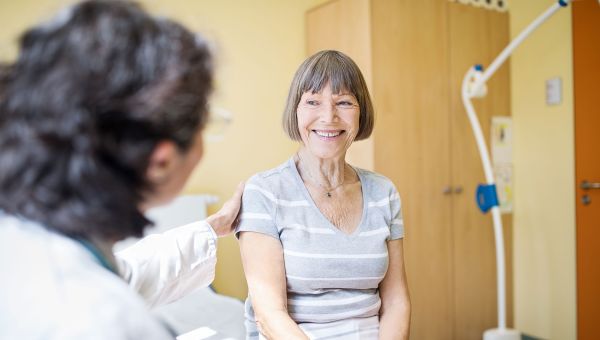 5 / 6

Respect the doctor's advice

Your role, as a friend or family member, is to be supportive and encouraging of the treatment recommended by your loved one's medical team. "People without medical backgrounds offer opinions about what they've heard [about treatments] or alternative treatments. They discourage their friends from undergoing the recommended treatment," says Hinshaw.

Despite your best intentions, you shouldn't sway your friend or family member from following their doctor's advice, recommend alternative treatments—even if you heard it worked for someone else!—or share your own research into treatment options.

It is important to be a patient advocate, but you can do so by taking notes at their appointments, attending treatment sessions or simply lending a listening ear. 6 / 6

Offer distractions

Your loved one has a lot on her mind—she has cancer, after all—so distract her! Take her mind off of her treatment with small surprises, like flowers, gifts she can actually use (such as comfy slippers or a journal) or even her favorite baked good.

If you know she has a treatment appointment coming up or has had a particularly hard week, take her on a coffee or tea date for a gossip session, see a funny movie or get a manicure and pedicure. Think about her day-to-day and the small things you can do to make it a little bit better—even if it's something as simple as listening.

"As a good friend, you have to be there and tell them nothing has changed—they're the same person they used to be," says Hinshaw
more from this guide
Targeted Therapy for Metastatic Breast Cancer

What Is Metastatic Cancer? Weight, Social Ties and Other Factors That Increase Your Risk of Breast Cancer Relapse
How to Show Support to a Friend With Metastatic Breast Cancer