How long you stay in the hospital depends on the type of surgery being done, your overall state of health and whether you have any other medical problems, how well you do during the surgery, and how you feel after the surgery. Decisions about the length of your stay should be made by you and your doctor and not dictated by what your insurance will pay, but it is important to check your insurance coverage before surgery.
In general, women having a mastectomy and/or axillary lymph node dissection stay in the hospital for 1 or 2 nights and then go home. However, some women may be placed in a 23-hour, short-stay observation unit before going home.
Less involved operations such as lumpectomy and sentinel lymph node biopsy are usually done in an outpatient surgery center, and an overnight stay in the hospital is usually not needed.
You may have a dressing (bandage) over the surgery site that may wrap snugly around your chest. You may have one or more drains (plastic or rubber tubes) coming out from the breast or underarm area to remove blood and lymph fluid that collects during the healing process. Your health care team will teach you how to care for the drains, which may include emptying and measuring the fluid and identifying problems the doctor or nurse needs to know about. Most drains stay in place for 1 or 2 weeks. When drainage has decreased to about 30 cc (1 fluid ounce) each day, the drain will usually be removed.
Ask your health care team how to care for your surgery site and arm. Usually, they will give you and your caregivers written instructions about care after surgery. These instructions should include:
the care of the surgical wound and dressing
how to monitor drainage and take care of the drains
how to recognize signs of infection when to call the doctor or nurse
when to begin using the arm and how to do arm exercises to prevent stiffness
when to resume wearing a bra
when to begin using a prosthesis and what type to use (after mastectomy)
what to eat and not to eat
use of medications, including pain medicines and possibly antibiotics
any restrictions of activity
what to expect regarding sensations or numbness in the breast and arm
what to expect regarding feelings about body image
when to see your doctor for a follow-up appointment
referral to a Reach to Recovery volunteer. Through our Reach to Recovery program, a specially trained volunteer who has had breast cancer can provide information, comfort, and support.
Your length of post-operative hospital stay depends on the extent of the breast surgery and if reconstruction is performed concurrently. On the average, most mastectomy patients are released in 2-3 days without post-operative complications. Reconstruction with tissue transfer or free flaps (microvascular surgery), may require a week or longer as in in-patient status to monitor the flap.
Not long. Most breast surgery at our hospital is done on an outpatient basis, so you would probably go home the same day. If your surgical treatment requires a mastectomy or an axillary dissection, you would usually go home the day after surgery, so only one night in the hospital.
The contents of this website are for informational purposes only and are not intended to be a substitute for professional medical advice, diagnosis, or treatment. Nor does the contents of this website constitute the establishment of a physician patient or therapeutic relationship. Always seek the advice of your physician or other qualified health provider with any questions you may have regarding a medical condition.
You will be encouraged to get out of bed and start moving around as soon as possible after your surgery. The amount of time you are in the hospital depends on the type of surgery you had. After a lumpectomy or other breast- conserving surgery, you may go home the same day, or at most your hospital stay will be one or two days. Women who have mastectomies or have all their lymph nodes removed stay in the hospital for one to three days. If you choose to have reconstructive breast surgery now, especially a flap procedure, this will also increase your time in the hospital.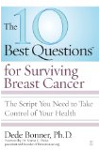 How long a woman has to stay in the hospital after breast surgery depends on what type of surgery has been performed.
70 to 80 percent of breast cancers can be treated with a "lumpectomy," meaning removal of the cancer and a surrounding area of normal breast tissue. With this type of surgery, most women can go home the same day if they choose, or leave the next day.
If the cancer is treated with mastectomy (removal of the entire breast, leaving the chest flat), women typically stay in the hospital overnight and go home the next day.
If the cancer is treated with mastectomy and reconstruction (reforming a breast mound with an implant or other means at the same time of mastectomy), a woman typically stays in the hospital two days.
Continue Learning about Breast Cancer Treatment