As we go through the menopause transition (sometimes called perimenopause), our hormones fluctuate and our menstrual cycles may become erratic. Some of us may think that we no longer can get pregnant, but this is not true, as the many unexpected pregnancies experienced by women in their forties prove. Per menopause can begin as early as our late thirties, but for most, it begins in their forties—as much as eight years before they reach menopause, which usually happens during the late forties or early fifties. While women are less likely to conceive as they grow older, the age at which women can no longer get pregnant varies. Because ovulation can occur right up to the last menstrual period, women who have sex with men and don't want to become pregnant should use contraception until one year after their last period.

Improved hormonal birth control methods such as low-dose combined oral contraceptive pills, progestin-only pills, implants, and the vaginal ring have fewer negative effects than hormonal contraceptives of the past, but each method has risks as well as benefits. Certain hormones can affect bone density, clotting, and vaginal lubrication in women nearing menopause. Barrier methods such as the diaphragm, the cervical cap, and the male or female condom don't affect the body chemistry but may not be as convenient or effective at preventing pregnancy. Improved intrauterine devices (IUDs) are now considered much safer than those that were available when many of us were first becoming sexually active. Options should be evaluated according to your individual needs and personal and family medical history.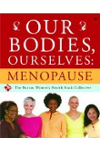 More About this Book
Our Bodies, Ourselves: Menopause
FROM THE EDITORS OF THE CLASSIC "BIBLE OF WOMEN'S HEALTH," A TRUSTWORTHY, UP-TO-DATE GUIDE TO HELP EVERY WOMAN NAVIGATE THE MENOPAUSE TRANSITION For decades, millions of women have relied on Our...
Continue Learning about Birth Control