Going off the pill can sometimes be easy with no side effects, yet more difficult for other women. Why? Well, today the pill is not just used to prevent pregnancy. Many women go on the pill also to remedy unwanted symptoms like acne, heavy periods, mood swings, irregular cycles and even perimenopausal symptoms - just to name a few. Any of those symptoms may certainly just come right back again, when you stop using the birth control pill!
Of course going off the pill may also mean getting pregnant- so be cautious! It is not that uncommon for women who stop the pill to experience a delay in getting their periods, a return of nuisance skin issues, hair shedding, and even hot flashes or night sweats! This may be especially so with lack of attention to basics of good nutrition and self-care!
Many women stop their birth control pill at the end of a pill pack and find no issues-which is great. Many others worry "What will come back when I stop the pill?", rightly so. I would urge you to be positive and think about what you can do to prepare for this change ahead especially if you are in perimenopause.
The fundamentals which help most start with diet, lifestyle and nutritional basics to help your system thrive, and then best tolerate dropping the use of any hormones- including what is in the birth control pill. Herbs can be tremendously helpful too!
If you can implement at least one- two months of healthy eating, key vitamins and supportive herbs first- then dropping the pill could be much more graceful! At Women to Women we suggest a healthy modified Mediterranean type diet that is typically no sugar, lower carbohydrates, and rich in healthy green vegetables, proteins and heart healthy fats.
In our Personal Program for Hormone Imbalance, we offer a dietary guide, a comprehensive multivitamin, mineral and omega 3 in a convenient nutrient packet. We also have as an herbal blend to support hormone balance. Using our program which includes our Essential Nutrients and Herbal Equilibrium for one or two months can really help you prepare to stop your birth control pill at the end of your next pill pack.
If you wish to learn more about the Pill in Perimenopause, look here: http://www.womentowomen.com/menopause/bcpperimenopause.aspx
If you wish to learn about our Personal Program for Hormone Imbalance, to help you feel more balanced or even help you get off the pill, read here:
http://www.womentowomen.com/programs/hormonalimbalance/default.aspx
Continue Learning about Birth Control Pill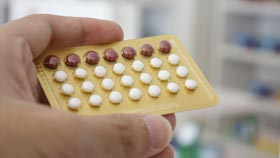 Birth control pills contain estrogen and progesterone to suppress ovulation and prevent pregnancy. Common side effects include bleeding between periods, nausea, weight gain, breast tenderness, mood changes and mild headaches. The ...
birth control pill is one of the most popular and effective contraceptive methods available. When taken correctly -- at the same time every day -- they are 99% effective at preventing pregnancy.
More