How do oral contraceptives affect testosterone levels in women?
Women make testosterone in their ovaries and adrenal glands, which is then released into the blood stream. Some of that testosterone binds to a protein known as serum hormone binding globulin (SHBG) and this is the key: If testosterone is bound to SHBG, it is inactive. It is only free (unbound) testosterone that increases libido. Since birth control pills can increase the amount of SHBG, more testosterone will bind to it, which means less is left in the active form.
This does not occur in every woman, but studies show that those on hormonal contraception with decreased libido have lower free testosterone levels than women who do not take hormonal contraception. If that wasn't bad enough, in addition to decreasing libido, low testosterone can lead to fatigue, lethargy and moodiness.
Continue Learning about Birth Control Pill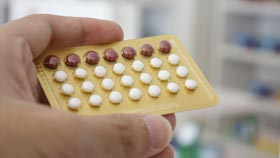 Birth control pills contain estrogen and progesterone to suppress ovulation and prevent pregnancy. Common side effects include bleeding between periods, nausea, weight gain, breast tenderness, mood changes and mild headaches. The ...
birth control pill is one of the most popular and effective contraceptive methods available. When taken correctly -- at the same time every day -- they are 99% effective at preventing pregnancy.
More