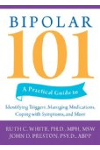 Bipolar disorder is a complex disease that requires medications that often are accompanied by close monitoring of blood levels. A successful medication regimen typically involves trial and error, and demands a close relationship with your medical doctor.

For acute mania, the following medications are commonly prescribed: lithium, Depakote (divalproex), Tegretol and Equatro (carbamazepine), Trileptal (oxcarbazepine), and antipsychotic medications such as Zyprexa (olanzapine) or Seroquel (quetiapine).

For depression, the following drugs are the most frequently prescribed: lithium, Lamictal (lamotrigine), Seroquel (quetiapine), or Symbyax (a combination of olanzapine and fluoxetine). On occasion antidepressants such as Prozac (fluoxetine) may be added on. At times antidepressants can aggravate bipolar disorder and therefore should never be prescribed alone; sometimes they can be used in combination with antimanic agents such as lithium or divalproex.

To maintain stable moods and prevent relapse, lithium or Lithobid (a slow-acting version of lithium), lamotrigne, and divalproex are the drugs most commonly prescribed.