Bipolar disorder does have a genetic component and can run in families. In this video, Tarique Perera, MD, a psychiatrist with Contemporary Care of Connecticut, discusses the hereditary nature of bipolar disorder.
While researchers aren't 100 percent sure yet what causes bipolar disorder, they know that there is a genetic component. If you have bipolar disorder, your child has a 15 to 30 percent chance of developing it. That risk shoots up to 50 to 75 percent if both you and your spouse have bipolar disorder. It typically occurs in people between the ages of 15 and 30, so once your child hits those already tumultuous teenage years, keep an eye out for bipolar symptoms and talk to your child's doctor at any point if you are concerned.
Yes, bipolar disorder tends to run in families, and researchers are looking for genetic markers for the disease, but no one gene has yet been found to be the culprit. Twin studies have shown that several genes and other factors combine to trigger onset of the illness. Children who have a parent with the illness have a one in seven chance of developing the disease.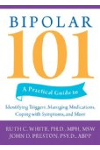 There is clear evidence that you can inherit an increased risk for developing bipolar disorder. If your mother, father, brother, or sister has bipolar disorder, you are four to six times more likely to develop the condition than is a person without a close relatives with the condition. However, keep in mind that even with a family history of the disorder your chances of being diagnosed with bipolar disorder remain small.
Scientists have found a higher occurrence of bipolar disorder in relatives of others with bipolar disorder. This has led to a search for a bipolar disorder gene. There does, however, seem to be other factors at play because identical twins do not always develop bipolar disorder if the other twin does. Since identical twins have all of the same genes, they would develop the disorder if it were entirely genetic.
If your partner has bipolar disorder, an important topic for you to discuss with your partner and your other family members is the genetic risk your children have of developing bipolar disorder. When one parent has bipolar disorder, there is a 15 to 30 percent chance that a child will develop the illness. This is a very serious issue when you have or are thinking of having children. It doesn't mean you have to be scared. It means you have to be aware and honest with family members. It's so easy to think, "It won't happen to me," but it has already happened to your partner's parents, so don't be naive. This also makes it very important for you and your partner to watch for any early warning signs of mood swings in your children.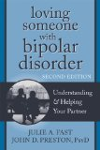 Bipolar disorder is understood as a genetically determined disorder of the brain that results in an alteration in one's thoughts, feelings and behaviors that are not readily controlled by an individual's will or desire to control them.
According to the American Academy of Child and Adolescent Psychiatry, identical twin studies have demonstrated that if one twin has bipolar disorder, there is a seventy percent chance that the other twin will develop it as well. There is a four to six times increased risk of a child developing bipolar disorder if that child has a parent or sibling with bipolar disorder. Even though a child may be at a four to six times increased risk of developing bipolar disorder when their parent or sibling has bipolar disorder when compared to the general population, most children whose parents or sibling have bipolar disorder will not develop bipolar disorder.
Proper nutrition, exercise, an adequate amount of sleep, avoiding overly stressful life situations, the absence of trauma, and avoiding substances that can be toxic to the brain such as drugs of abuse and alcohol, may possibly prevent, help delay the onset or minimize the impact of bipolar disorder in some genetically vulnerable people.
Continue Learning about Bipolar Disorder Causes & Risk Factors