Nearly one-third of the dry weight of our stool is bacteria. Hundreds of different species of "good" bacteria play a very important role in our health by processing fiber and producing certain vitamins, such as B vitamins, vitamin K, and other nutritive substances. The health-promoting bacteria are called probiotics and are normal inhabitants of the human gastrointestinal tract. Amazingly, bowel bacteria cells comprise approximately 95% of the total number of cells in the human body. These bowel inhabitants play a critical role in the health of our immune system.

Seventy percent of the immune system is located in the gastrointestinal (GI) tract, and the microflora (the bacterial population) of the GI tract constitute a complex ecosystem that can be viewed as an organ of the body. These microbes profoundly influence our health and survival. Certain normal metabolic functions and enzyme activities can be attributed to the microflora, and these play a role in metabolizing nutrients, vitamins, drugs, endogenous hormones and carcinogens; synthesizing short chain fatty acids; preventing colonization of pathogens; and modulating the normal immune response.

For instance, these friendly flora make short chain fatty acids (such as lipoic acid and butyrate) and other nutrients that have antioxidant and immune-enhancing properties. In addition to these health-enhancing activities that enable your body to function more efficiently, these good bacteria secrete antibacterial substances that prevent the disease-causing bacteria from taking hold in your body. Therefore, the presence of health-promoting bacteria crowd out and prevent the development of bacterial illnesses.

When you eat a healthy, micronutrient rich, plant-based diet, you promote the growth of the right species of bacteria. One example is that having a proliferation of the health-promoting species of bacteria is thought to offer protection against colon cancer. An unhealthy diet is lacking in these very powerful and protective bacteria and promotes the growth of microbes that can damage your health and body.

Frequently identified organisms, such as Lactobacilli, Bifidobacteria, and Escherichia coli, are sometimes measured in the stool as indicators of healthy overall bowel flora. Of course, the importance of health-supporting bacteria in our digestive tract is one critical reason to avoid destroying this delicate balance with antibiotics.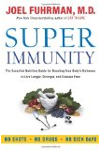 Continue Learning about Bacterial Infections