When you're sitting at a computer, it's important to have lumbar (lower back) support, sit in the proper position, and get up regularly. In this video, chiropractor Steven Shoshany, DC, explains what you can do to support your back when sitting.
To keep your back supported while sitting, use a lumbar disk support. You can roll up a thick bath towel and put this behind your waist when sitting at your desk. Or you can buy a lumbar disk support at a medical supply store. Also, sit on a foam cushion to protect your tailbone from injury and pain.

Equally important is to select an ergonomically correct chair with strong back support. Sitting with no back support increases the force on the spine by about 40 percent more than does standing. Leaning forward when you sit causes even higher forces. A reclined posture with your chair back at a slight angle often works best to keep you pain free. When you sit in the chair, your buttocks should press against the back of the chair. Your feet should be flat on the floor. Your knees should be slightly higher than your hips, and you shouldn't have to strain to see your computer. Use a footstool, if possible, to ease pressure off your back. Make sure your chair has an armrest, as it helps to take some of the strain off your neck and shoulders.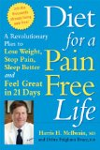 Continue Learning about Back Pain