NSAIDs, acetaminophen, and numbing creams, like lidocaine, are nonprescription medications that help lower back pain.
In the severe acute phase of back pain, some medications (analgesics) are used purely for pain control when needed at first. Other medications help pain and inflammation (anti-inflammatory drugs), while some help muscle tightness and spasm (muscle relaxants). For chronic pain, meaning pain that has lasted longer than expected or for more than three months, other medications are used to allow you to have pain control and be active.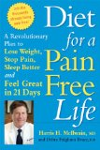 More About this Book
Diet for a Pain-Free Life: A Revolutionary Plan to Lose Weight, Stop Pain, Sleep Better and Feel Great in 21 Days, ADA...sound nutritional advice...do-able, delicious..a godsend to pain sufferers.
Do you wake up each morning aching with joint or muscle pain? Have you been trying to lose stubborn belly fat for years? Do you wish you could be active without pain medications? Look no further: Diet for a Pain-Free Life is the simple-to-follow, doctor-designed solution to improve your health. Leading rheumatologist, Dr. Harris McIlwain shares his revolutionary prescriptions in this first proven lifestyle plan that will help you drop pounds and decrease pain at the same time. Losing just 10 pounds can reduce chronic pain by as much as 90 percent. Learn the secrets of how to: Eat Well and Lose Weight with the Pain-Free Diet—even if you've never been able to succeed on a diet before Exercise Your Pain Away—even if you dislike traditional exercise, or if your pain makes movement difficult Stop the Stress-Pain Connection—even if you're overworked and easily stressed Improve the Quality of Your Sleep—even if you suffer from insomnia or other sleep conditions Those who have followed Dr. McIlwain's program have been able to resume the activities they love and transform their lives in as few as 21 days—now you can too.
Continue Learning about Back Pain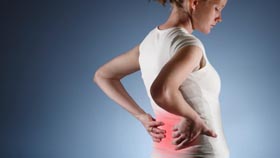 Just about everyone has experienced some level of back pain. It is one of the most common ailments brought on by disease, injury, or misalignment of the spine. It can be a dull muscle ache in the lower back or a severe, sharp pain ...
in that affects your ability to bend over or stand up straight. Most often back pain results from strained muscles and ligaments that surround the spine, but it can also be caused by structural problems with the bones of the spine. There are treatment options for back pain, and understanding the causes and symptoms is key to preventing it in the first place.
More