Muscles of the lower back are even thicker and denser than those of the upper back, so you may have to apply a bit more pressure. Don't be afraid of causing further injury. The best place to begin looking for lower back spasm is from the middle of the spine at waist level to about three inches outward on either side of the spine just above the crest of the hip bones. Use enough pressure so it feels somewhat soothing, but make sure it is more than just a gentle rub. If you don't use enough pressure, you may not find the spot. The spasm should feel like a rope or a marble in spongier muscle, and putting pressure on it will be painful. Even if the person applying the pressure cannot feel the rigidity or pebblelike spasm, when your helper hits the spot, you'll know it.

Once you've located the spasm, step two is to begin loosening its grip. Start by applying as much pressure to the spasm as you can reasonably tolerate. Have someone rub or massage the spasm with the tip of the thumb, several fingertips at one time, or the heel of the hand if necessary. As long as your helper is putting enough pressure on the right area, the exact technique isn't very important. If it is being done correctly, you will feel a sharp, almost burning pain in the spasm. Don't be afraid. Although the pressure may be painful and uncomfortable, one to two minutes twice daily will not injure you or make you worse. Pulling or straining forces cause most muscle injuries to the lower back, and the relatively light compressive forces used during targeted massage are not dangerous.

The day after your first targeted deep massage, your original painful, burning, and gripping symptoms will likely have lessened to a dull, achy pain. If the massage was very forceful, you may also feel as though you have a slight bruise or a lesser and more superficial type of pain in the area. This is a common response, and most people are more than happy to make that trade-off. Because targeted deep muscle massage is so effective in reducing severe spasm, it is only necessary to repeat this procedure three to four times weekly during the first three weeks of treatment. After that, the spasm should be significantly reduced, and so is the need for this treatment. Targeted deep muscle massage can then be applied as needed.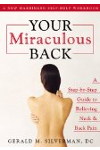 Continue Learning about Back Pain