Back pain is very common. The majority of people experience back pain at some point in their life. Back pain is also the second most common reason for visiting a doctor.
An estimated 80 percent of the population will suffer at least one episode of acute back pain at some point in life. At any given time, 20 percent of the population and half of working age adults suffer lower back pain. Neck and back pain are the second leading cause of medical office visits and the leading cause of lost work time in the United States. At these levels, it runs in just about everyone's family. Neck and back pain are epidemic in our society, and nothing is being done to change that. If you are over 40, it is unlikely for you not to have experienced—or know someone who has experienced—significant lower back or neck pain.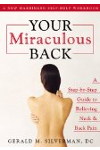 Unfortunately, back pain is very common. Approximately 80 to 90 percent of the population will suffer from spinal pain at some point in their lives. People who are overweight or obese, and who smoke, lift heavy objects or have had a previous episode of back pain, are more likely to experience back pain.
Today, back pain is also increasingly common among children and adolescents. This is likely due to a number of factors, such as heavy backpacks, reduced physical activity, too much time spent at the computer or watching TV and the growing incidence of obesity in the young.
When it comes to back pain, your lower back is an especially vulnerable area as it's prone to injury, particularly as we age. The wear and tear of living eventually weakens the skeletal structure, causing bone loss and disintegrated or displaced discs. And you're not alone: 8 out of 10 Americans experience back pain at some time, making it the fifth most common reason to visit the doctor.
This content originally appeared on doctoroz.com.
It's been estimated that 90-plus percent of Americans will suffer from back pain at some point in their lifetime. Most often, the pain goes away by itself, but in some cases, people with back pain can have chronic pain where the pain continues. Some of these people have disc herniations, but 20 percent of people with back pain will be suffering from sacroiliac joint dysfunction.
If you've ever experienced back pain—which can consist of anything from a twinge in the neck to aches or pains anywhere along the spine, on down to the hips, butt and legs—you're in good company. It's the second most common neurological health complaint, right behind headaches. Nearly everyone experiences some degree of back pain at one point or another, and it's one of the top causes of disability and missed work.
Continue Learning about Back Pain