A myth that people who have back pain may sometimes subject themselves to is the negative and sometimes self-fulfilling statement "I have a bad back." Well, here's an important piece of information: You do not have a bad back. What you have is a wonderfully engineered, magnificently designed, and miraculously crafted human back that is unfortunately causing you pain. The myth is that because there is pain, something is significantly wrong, and consequently your back must be bad.

The truth is that regardless of where the pain is coming from, it didn't start because your back is "bad." Your back does not have a mind of its own to choose the way it will work. The spine and surrounding muscles don't choose to be good or bad, and just like every other organ in your body, they strive to perform for the good of the whole. The spinal bones and muscles are almost never the primary site of serious or life-threatening disease, and they rarely complain until neglect catches up to them when you're in your thirties or forties. Your back is a strong, flexible column allowing movement in all directions with strength and endurance well beyond what is adequate to support several times your weight. It is a shock absorber, an anchor for your limbs, and a protector of the central nervous system. It does all of this regardless of how you treat it and whether or not you pay attention to it.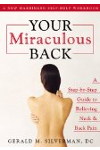 Although you might be angry with your back, it doesn't mean your back is bad! Back pain is usually caused by unconscious movement habits we've repeated over and over without realizing these habits are contributing to our pain. A good therapist will not only treat your pain but also educate you in how your sitting, walking, sleeping, exercise, or working habits may be contributing to your pain. These habits create tension in specific muscles which then alters how the spine or pelvis moves. This is why many people continue to have pain--they don't understand the connection between their habits and their pain.
Continue Learning about Back Pain