Weak stomach muscles can cause the spine to be out of balance and place stress on the spine, which can cause lower back pain. The key is to evenly strengthen the muscles in the stomach and back of the spine.
The muscles around your spine and in your abdomen contribute to lower back health. Loose or weak abdominal muscles can cause lower back pain by encouraging a forward-leaning posture. Abdominals work in conjunction with back muscles when bending, straightening or lifting. This is why weak, damaged or separate abdominal muscles can be associated with lower back pain.

But you can protect back muscles by strengthening your abdominals through exercise. The abdominals are relatively small, so there is less of a possibility of overtraining as with exercises that involve weights. Keep in mind, though, that you can strain abdominals by overdoing exercises.

If you are overweight, loosing pounds can both relieve pressure on your back and enable you to more effectively exercise your abdominals. However, exercises for the abs can be as easy as tensing up your abdominal muscles, feeling them tightening as you go about your daily activities.

There are many exercise routines that improve overall health and also help you strengthen your abdominal muscles, such as swimming, bike riding, jogging and yoga.
The idea that lower back pain comes from weak abdominal or stomach muscles is probably one of the longest running and most widely held back pain myths among patients and many therapists, yet the basis for it remains unproven. The myth itself is illogical. It may have started from a notion that by increasing the strength of your stomach muscles, you can increase pressure in the abdomen and thereby increase support for the spine. Sorry, but you cannot. Your stomach muscles function to support the contents of your abdomen, not your back. The good news is that weak abdominal muscles have never had, and will never have, anything to do with lower back pain. Strong abs are no guarantee of a pain-free back, and weak abs are no predictor of a painful back.

Proponents of this myth would argue that millions of lower back pain patients have benefited from abdominal strengthening exercises. And while they'd be right that millions of patients have benefited, they'd be wrong about attributing those benefits to stronger stomach muscles. The beneficial effect of general exercise on lower back pain is almost universal and is extremely well documented. But no single exercise has ever been shown to be more advantageous than any other, and that includes exercises that strengthen your stomach muscles. So if you're afraid you have to do thousands of sit-ups to cure your lower back, relax. You don't. It is a myth and misconception that weak stomach muscles are a cause of lower back pain. They are not.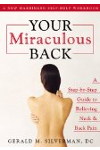 Continue Learning about Back Pain