Patients with severe spinal stenosis should avoid any heavy lifting or twisting. Low impact exercises like walking, swimming and elliptical training are great for all patients.
Avoid prolonged walking which might exacerbate your symptoms. Your body will often be your guide as numbness, weakness or neck or back pain may develop. Also avoid high impact aerobics or jogging which involves a strong force on the axial skelaton. Too much hyperextension of the neck or back (i.e. back bends) will likely also exacerbate symptoms. Another example of this would be bringing the head back to serve a volleyball or tennisball when you have cervical stenosis.
Continue Learning about Back Pain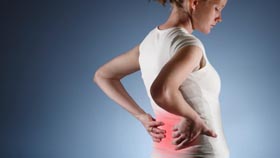 Just about everyone has experienced some level of back pain. It is one of the most common ailments brought on by disease, injury, or misalignment of the spine. It can be a dull muscle ache in the lower back or a severe, sharp pain ...
in that affects your ability to bend over or stand up straight. Most often back pain results from strained muscles and ligaments that surround the spine, but it can also be caused by structural problems with the bones of the spine. There are treatment options for back pain, and understanding the causes and symptoms is key to preventing it in the first place.
More