When performing the all-fours rocking stretch exercise (which passively restores normal mechanics of the shoulder, neck, and arms), your head will typically extend and your neck vertebrae will compress, resulting in your eyes looking forward or up while rocking backward onto your heels. Have a friend help you correct your form by visually monitoring your neck as you perform this exercise. They should make sure your neck remains long in the back. An easy way to check this is to put the fingers of one hand at the base of the neck and the fingers from the other hand at the base of the skull. As you rock backward onto your heels, the distance between the fingers of both hands should not decrease.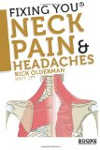 Maintaining ideal posture and tempo during this exercise is very important. Some common errors to avoid include:
Rocking back and forth too quickly- it should be a nice slow and controlled tempo to allow your muscles to stretch
Rounding your upper back (like a hunch back)- keep you back flat throughout the entire movement
Lifting your head and chin- instead allow your chin to move towards your chest to stretch the back of your neck
Arching your lower back- don't allow your low-back to create an excessive "c" curvature.
Continue Learning about Back Exercises