Germs are good in moderation. Some illness is inevitable, and usually it's not a big problem, however as a parent you should still try and reduce the number of germs your baby is exposed to. Here are some easy ways how:
Don't worry if your baby pees in the bathtub. Believe it or not, urine is sterile!
For the first six months of her life, limit the number of people who handle your newborn (and I don't just mean sketchy strangers). Ideally all would-be holders would do a thorough hand-wash first. But I know this can be awkward. So carry a hand-sanitizing gel and ask people to use it before holding your baby. Just say it's doctor's orders. Because, well, it is.
Check out your day-care center's policy about hand washing and diaper changing, and see what they do about potentially contagious children. Licensed day-care centers are required to have infection-control policies, so ask to see them.
Clean dropped pacifiers with soap and water. Pet peeve alert: Please don't clean your baby's pacifier by licking it yourself. The human mouth has more bacteria than the mouths of many animals! Yuck. To get them really clean, throw those binkies in the top rack of the dishwasher. The covers that come with some pacifiers should also be washed regularly.
Never spoon-feed your baby food straight from the jar and then return the half-empty jar to the fridge. Double-dipping can allow bacteria to grow in the food, which could make your baby sick after the next feeding. Spoon out a portion into a bowl, tightly cap the jar, and refrigerate it for later.
From The Smart Parent's Guide: Getting Your Kids Through Checkups, Illnesses, and Accidents by Jennifer Trachtenberg.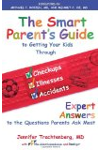 Handwashing is the best protection. Everyone needs to washing their hands with soap and running water or a non-water hand cleanser before touching the newborn. Caregivers (including parents, friends, baby-sitters, etc) also need to washing their hands after changing the newborns diaper, handling food, pets or other items that are knows to cause germs. If there are other young children in the home, they also need to be taught to wash their hands and to not share "dirty" toys with the newborn. Having blankets "just for the newborn" are another way to protect baby from germs. Usie these blankets as a barrier when the newborn is placed on the floor or other surface. Finally anyone who is sick, should not have direct contact with the newborn.
All newborns are vulnerable to germs. To protect your baby, follow these guidelines:

• Make everyone wash their hands before they come near your baby. This
simple step can do a lot to keep your baby healthy.

• If someone is ill -- even if it's just a cold -- don't allow him near your
baby. Say, "I'm sorry, but our doctor told us to be extra careful. Get
well soon, so you can come and see her!"

• If you are ill, wash your hands even more often. But continue to
breastfeed! Breast milk is your baby's best protection against illness.
Continue Learning about Baby's Physical Health