Signs of acid reflux in babies can be as easy to spot as your baby crying when they spit up. On the other hand, signs of reflux can be more subtle, like you baby doing frequent small feeds. Other possibilities are arching away from the bottle or simply not seeming as happy as they used to after a feed. If you think your baby has reflux, talk to your pediatrician.
Some things your pediatrician may suggest are thickening feeds with rice cereal and elevating your baby's head for thirty minutes after feeds. If these do not work, your pediatrician may try medication. Medication does not stop your baby from spitting up, it just takes out the acid so your baby does not hurt or develop feeding aversion and continues to gain appropriate weight.
You can usually get some signs from your child that there's a problem with acid reflux, depending on the age. Babies may arch their backs, trying to "get away" from the acid. They may also wheeze, cough, or have a hoarse cry, as acid is irritating to the throat and the voice box.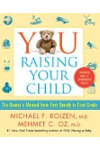 Continue Learning about Baby Feeding & Nutrition