Any discussion of karma naturally leads to questions about its effect on health. If all our thoughts and actions come back to us in some form, is there a causal relationship between a health problem and some action we have taken or not taken? The answer is . . . possibly. With physiological cause and effect, it's easy to see the relationship. If you have a family history of heart disease and diabetes and yet you are overweight, have high blood pressure, and refuse to make more healthful life choices, you are likely to reap the consequences, or karma, of your actions: Heart attack, stroke, circulation and eyesight problems are just a few possible complications.
Some health conditions can be due to "cosmic" cause and effect. For instance, in esoteric philosophy, it has long been held that if you cause pain to fellow human beings or are cruel to animals, you may develop some type of ailment that causes you great pain. Other health problems are believed to result from bad actions such as lying, cheating, and stealing. How can you tell if your health problem has a karmic connection? More important, how do you remedy it? If you practice the routine presented in this book (Your Hands Can Heal You) regularly and have had success with self-healing, yet are unable to relieve yourself of a problem, your condition could be related to karma. You determine this through self-examination, the self-awarenes exercise, and meditation. It isn't as mysterious and difficult as you might think. Most people who engage in this self-analysis develop a sense or gut feel that the problem is or isn't due to cosmic karmic causes. Here's a quick routine for determining karmic involvement in a health problem:
Start with the Mindfulness Meditation.
After 5 minutes, place your awareness on your health problem.
Formulate in your mind a question such as, "Has this condition been caused by any action or inaction on my part that I need to resolve?"
Let go, and return to being aware and mindful.
You may get an answer in that meditation. You may get an answer later in the day, or the next day. Or, you may have to meditate on it for several days. The answer may come to you in an indirect, surprising, or symbolic way. (Remember, the unconscious mind doesn't always communicate verbally.)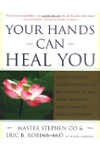 Continue Learning about Alternative Medicine