It is hard to know for sure without a little more information. Here are three quick ideas for you to consider:

Dry air

It may be that the air in your daughter's room is a little dry. Try running a vaporizer in the room while she sleeps to see if that helps.

Tics

Sometimes kids make muscle movements that they have no control over. They may not even be aware what they are doing. Common examples include frequent eye blinking, mouth movements, or throat clearing.

Tics seem to happen more often when someone feels stressed, anxious, excited or angry. They can also get worse when someone is tired.

With most children, these tics last only a short time and then go away on their own. Boys are affected more than girls are. Temporary tics last for less than one year and usually do not require treatment. It also should be clear these movements are not a seizure.

Allergies

This also could be due to allergies, but it's less likely. People react in different ways to pollen, mold and dust. Their nose, throat or eyes may be involved in some way.

Symptoms of allergies in young kids include runny or stuffy nose, itchy nose and eyes, breathing through the mouth, dry cough, frequent sneezing, and an itchy roof of the mouth.

Allergies are seen most often in children with other allergy-related conditions such as eczema or asthma, or those who have family members with allergies.

You might want to talk with your daughter's doctor to see what he or she thinks.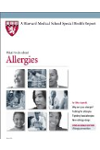 More About this Book
Harvard Medical School What to do about Allergies
Food allergies, hayfever, skin allergies, and reactions to pet dander: the symptoms of these allergies are different but the cause is the same: your immune system is over reacting to an ordinarily...
For the most part, morning throat clearing can be due to different causes, one of them being allergies. It could also be due to postnasal drainage, causing accumulation of mucus to the back of the throat and irritating the cough reflex. For the most part, postnasal drainage can also be due to allergies.
Continue Learning about Allergies Symptoms