A good personal trainer will know the barriers of the older adult and can help older clients make lasting lifestyle changes by knowing how to develop rapport with the older adult. A good personal trainer is one that is certified through an accredited agency and has specific training and knowledge of the older adults' physiological limitations. The National Academy of Sports Medicine is accredited and has a Senior Fitness Specialist course that arms personal trainers with foundational knowledge on effective program designs for older adults.
You must be careful to choose a trainer who understands what you want to accomplish and the unique qualities of the mature athlete and active ager. The trainer must understand that you are not merely a bad sequel to your 20-year-old self but are in fact unique. I recommend finding a trainer who has previously worked with masters athletes and adult onset exercisers. Interview the trainer to find out if she believes that fitness after 40 is possible. Although there are many great therapists and trainers out there, you would be surprised by how many of them buy into the notion that we should all just slow down when we reach a certain arbitrary age. Such a belief affects how they will work with you.

Just like any service, one great way to find a personal trainer is to ask your friends, family, business associates, etc., if they are working with anyone they like. You can also watch the personal trainers who work at your gym and observe how they work with people. If you see someone you like, ask to talk to him about your goals. You also want to choose a personal trainer who is certified.

If you decide to hire a personal trainer, do so for a short period of time first. Then, if you are achieving your goals with him, you can purchase additional sessions. It would be unfortunate to buy a six-month package of training sessions only to find out you don't get along with your trainer or he doesn't understand your goals.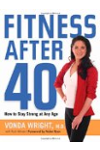 More About this Book
Fitness After 40: How to Stay Strong at Any Age
It's one of the undeniable facts of life. After we reach a certain age, our bodies change. No matter how fit we may have been at 20, we're very different people after 40. But growing older doesn't...
Continue Learning about Aging & Fitness