The following are ten tips for older adults to get into good shape and stay there:
Limit your effective calories. This means minimizing your intake of simple sugars and keeping effective calorie counts per day to a level that allows weight loss or maintenance of a desired weight. Intake of foods with trans-fats should also be limited.
Exercise in the morning whenever you can. Early daily exercise increases your metabolism throughout the day, giving you a calorie-burning dividend for that early rise investment!
Drink ample amounts of water. Even mild dehydration causes fatigue and slows metabolism by 3 percent. This means you're burning fewer calories. Especially in older adults, thirst might be misinterpreted as hunger. Consuming fluids often decreases hunger, and it contributes to physical expansion of the stomach, which also helps to quell hunger.
Eat some form of protein within 30 minutes of exercising. Protein is a building block for muscle. This will help to assure that the calories being burned come from fat and not from muscle.
Avoid eating after 8 P.M. A slower metabolism after sleeping can contribute to fat deposition, so avoid the after-dinner snacks later in the evening.
Walking and household chores are great exercise. You don't always have to go to a gym to exercise.
You don't need to eat three meals a day. The total effective calories you eat each day will affect your weight. You can choose to have small meals throughout the day, or satisfy yourself with two meals and a snack. Recommended daily amounts of nutrients are based on averages, and many nutrients store very well.
Only a few supplements, such as vitamin D and calcium, can be generally recommended, even for older adults. Taking a multiple vitamin with minerals might be helpful if your diet is not sufficient but -- for most people -- other supplements are not recommended unless you have specific nutritional deficiencies.
Exercise with good form at a controlled pace after a relaxed warm up. Any type of jerking motion or traumatic exercising technique increases the likelihood of injury. As we get older, recovery from injury takes longer.
Following an exercise routine with a friend will increase your chances of staying with your program. Knowing that someone is counting on you can provide even more motivation to show up. Additionally, socializing with friends also helps promote health and longevity.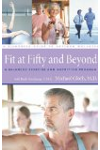 Continue Learning about Aging & Fitness