Psychoanalysts utilize free-floating awareness as a way of picking up what clients may be feeling, and people with attention deficit hyperactivity disorder (ADHD) often have a similar form of awareness. It may allow the individual with ADHD to be strongly attuned to another person despite his inability to pay close attention to what the person is saying. This inability to listen carefully to others, a common symptom of ADHD, might be akin to what Freud called evenly hovering attention, which "simply consists in making no effort to concentrate the attention on anything in particular."

Freud thought that this form of attention was a talent necessary for listening with the third ear, or for developing interpersonal intuition. One of the gifts of children diagnosed with ADHD is this talent to discern what's not being said, or the ability to read the emotions of others.

One college student with ADHD reported that one of the reasons she had a hard time listening to others was that she so often recognized that what a person was saying contradicted what was really going on with him or her. She found herself paying close attention to a person's nonverbal cues, facial expressions, and gestures. Again, although it may have seemed like she was not paying attention at all, often she was very present and aware of the other person -- just in ways that weren't typical. By this student's account, her inability to focus on the words being said allowed her to understand other people more deeply -- because she wasn't guided simply by words. So, ADHD may be seen as an intuitive form of intelligence that picks up the present state of individuals, which they may not want to convey.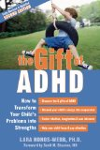 Continue Learning about ADD/ADHD Symptoms