5 Tips for a Safe 4th of July
From fireworks to backyard barbeques, here's how to help ensure your July 4th is fun and injury-free.
Medically reviewed in February 2022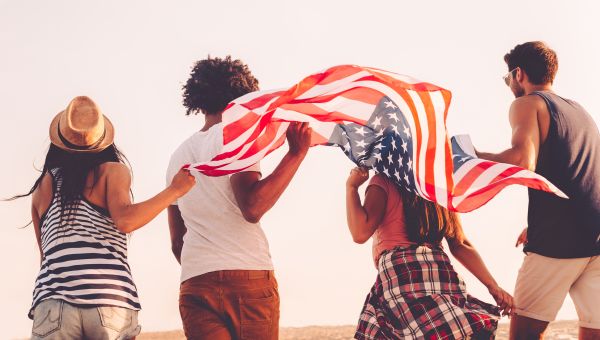 1 / 6
For many Americans, the 4th of July involves watching fireworks, attending a picnic or a barbeque or other annual traditions. But if you're not mindful about safety, injuries and mishaps could dampen your Independence Day celebrations. Protect your wellbeing this year by avoiding sunburns, food-borne illnesses and other health issues. Here are five steps that you can take to help ensure that you and your family have a safe holiday weekend. 2 / 6
Danger-Proof Your Grill
Planning to fire up the grill this July 4th? If you'll be using propane, check the tank and hoses for leaks, cracks, dents or corrosion before you light the fire. It's also important to light the match before turning on the gas. If you're using a charcoal grill, always wait for the lighter fluid to soak in before lighting the charcoal or wood chunks and make sure to allow your coals to burn out completely and ashes to cool for 48 hours before disposing of them.
You should also take steps to reduce your exposure to cancer-causing substances associated with grilled meats. Research shows that when red meat or pork are grilled or cooked at very high temperatures, substances in the meat convert into compounds that are potentially carcinogenic. But that doesn't mean you have to give up your July 4th burger.
You can lower your risk by:
Avoiding cooking your meat on an open flame
Avoiding prolonged cooking times, especially at high temperatures
Continuously turning your meat while it's on the grill
Removing charred portions of meat before eating
Let your meat cook in the oven for a bit, before transferring to the grill to finish cooking 3 / 6
Be Careful with Bottle Rockets
Setting off your own fireworks can be good fun if you take smart precautions. Some sparklers, firecrackers and rockets can reach temperatures of up 1800°F, so make sure to point fireworks away from homes and trees, and soak any fireworks in water before throwing them away. Also be mindful of your pets: All that loud popping can frighten and disorient them. You're best bet is to keep them inside with a TV or radio at normal volume to help dampen the boom. 4 / 6
Keep a Lid on Drinking
Festive cocktails and cold beer might be served at backyard barbecue, particularly on a summer holiday. If you choose to drink, it's still important to be mindful about how much you consume.
Heavy drinking is dangerous. The more you drink, the greater your risk for health issues like cancer, liver disease, atrial fibrillation and stroke. Alcohol also lowers your body's tolerance for the heat and can dehydrate you more quickly in the sun, increasing your chances for heat exhaustion and heatstroke which is especially important to remember when you're at a party during the summer.
If you don't drink already, it's probably best not to start. You could skip the booze and make this delicious tropical smoothie punch instead. If you do decide to drink, stick to the current guidelines for light or moderate drinking. If you're a woman, that means you shouldn't have more than one drink per day, and if you're a man, no more than two drinks a day. 5 / 6
Fight Bugs Naturally
Friends and family aren't the only ones showing up to your party this July 4th. Mosquitos love a summer barbecue. Protect yourself by using insect repellants approved by the United States Environmental Protection Agency (EPA) that contain one of the active ingredients below:
DEET
Picaridin (known as KBR 3023 and icaridin outside the US)
R3535
Para-menthane-diol (aka oil of lemon eucalyptus)
2-undecanone
Keep in mind that infants under two months should never be exposed to insect repellant. Instead, dress them in protective clothing that covers their arms and legs, and place mosquito netting over strollers or other carriers to ward off bugs. And those under three should avoid any products with lemon eucalyptus or para-menthane-diol.
If you're hosting a party, try burning EPA-approved candles made of citronella oil which can deter mosquitos from the area. 6 / 6
Use Real Sunblock
By now many people understand that it's important to use sun protection before heading outside during the day, particularly during the peak sun hours of 10 a.m. and 4 p.m. But with so many options available, you may be unsure if you're using the right one.

There are two main types of sunscreen on the market today: physical and chemical. Physical or "mineral" sunscreens, which contain the active ingredients titanium dioxide or zinc oxide, protect you by sitting on top of your skin and deflecting the sun's rays. Chemical sunscreens, on the other hand, contain different active ingredients, including oxybenzone, avobenzene and homosalate. These sunscreens work by absorbing the sun's rays.
Physical and chemical sunscreens are equally effective but there are some other differences that could help you decide what's best for you and your family. Physical sunscreens may last a little bit longer than chemical products when you're in direct UV light. They may also be slightly less irritating to the skin. If you're buying a chemical sunscreen, make sure to choose one that contains at least three sunscreen ingredients.
Sunscreens are also available in different formulations, including creams, lotions, gels, sticks and sprays. If you have dry skin, creams may be the best option for you. In general, lotion formulas are best for large areas like the back or legs. Meanwhile, gels may be best suited for areas with a lot of hair like the scalp and chest. Sunscreen sticks can be helpful when you're applying sunscreen around delicate areas, like your eyes. Spray versions can be easiest to apply on small children, but when you use them, do not direct the spray towards the face. Instead, cup your hands and spray the sunscreen into it. Then apply the sunscreen to you or your child's body the same way that you would apply a cream or lotion.
No matter what type of sunscreen you use, make sure you reapply it at least every two hours (more often if you're swimming or sweating a lot). It's also important to choose a sunscreen with of an SPF of at least 30 and try to limit direct sun exposure whenever possible by wearing protective gear, including sunglasses, hats and clothing that offers UV protection. Replay Slideshow