The 10 Simple Diet Tweaks Nutritionists Are Making This Fall
Here's how to shake off summer indulgences and reset your eating habits.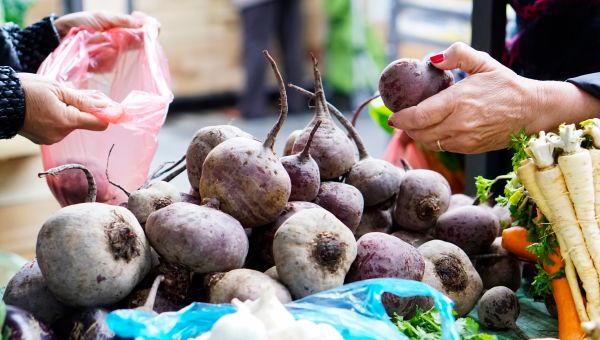 1 / 11
Even if you're many years removed from the classroom, there's just something about fall that inspires the feeling of a fresh start. Cooler temperatures, football season and falling leaves all set the scene. Also accompanying fall: mouthwatering produce like apples, gourds, beets, Brussels sprouts, plus all sorts of varieties of citrus.
The start of the season is an opportune time to evaluate and assess your diet.
After the indulgence-packed summer months you may be in need of a reset, says Sydney Greene, RD, at Middleberg Nutrition in New York, New York. "All of the traveling, BBQs and parties can wreak havoc on routines, causing people to eat or drink things they normally would not consume."
Here are 10 ways to reinvent your diet this fall season. 2 / 11
Break out your slow cooker
If you're short on time—or frankly, just don't love cooking—a slow cooker is ideal, says Greene. It lets you assemble meals in the morning so that a delicious dinner awaits when you arrive home from work (just freeze the leftovers for a pre-made meal later on, too!).
Another benefit to the slow cooker? Even lean meats like chicken and turkey turn fork-tender during its hours cooking on low heat. And slow cookers are also a simple way to boost veggie intake, says Jackie Newgent, RDN, a New York, New York-based culinary nutritionist, private cooking coach and author of The All-Natural Diabetes Cookbook.
Cooking tip: Use your slow cooker to make meat-based soups or stews. And don't worry, vegans and vegetarians can also benefit from a slow cooker: Greene recommends a Red Lentil Kale Curry, while Newgent often makes a Creamy Eggplant Korma in her crockpot. 3 / 11
Make over breakfast with steel-cut oats
Breakfast cereal is often a dessert in disguise. Some contain up to 26 grams of sugar per serving, points out Greene, who says to stay away from any cereal with sugar (or syrup, nectar or juice) in the first three ingredients.
Start your morning off with good-for-you steel-cut oats instead. They're high in soluble fiber, which Greene says forms a gel-like substance when mixed with water that's thought to help lower cholesterol and keep blood sugar stable.
Cooking tip: Watch how much sugar you add to your bowl. Instead of stirring in maple syrup or brown sugar into your cooked oatmeal, Greene recommends adding 1/2 ripe banana to the pot before you put in liquid. The banana is naturally sweet, plus provides a dose of potassium. 4 / 11
Add more beans to your diet
Legumes like chickpeas, lentils, kidneys and black-eyed peas are naturally low in fat, but rich in fiber and nutrients, including B vitamins, iron, copper, magnesium and more. And, studies have found that bean eaters are less likely to be obese—and more likely to have smaller waist sizes.
Cooking tip: Easily add more beans to your diet by making more soups—think lentil or black bean. You could also cook bean-based chilis or sloppy joes. Another option: enjoy a Mexican-style breakfast made up of refried beans, eggs and tacos. If you're more a chickpea fan, then pop the peas in the food processor to make a hummus dip or spread. 5 / 11
Load up on root veggies
Root veggies have high amounts of fiber, which will slow the release of natural sugars, keeping you feeling full for longer, Greene says. Some popular and healthy fall root veggies include beets, carrots and sweet potatoes.
Beets in particular contain betalain pigments which offer anti-inflammatory and antioxidant benefits, says Newgent. Carrots are a great source of beta-carotene and sweet potatoes are packed with vitamin A and C, along with potassium and manganese, says Greene.
Cooking tip: Make avocado toast using cooked, sliced sweet potatoes in place of bread, recommends Greene. Or, suggests Newgent, pair chilled roasted beets with goat cheese, fresh basil and balsamic vinaigrette for a salad. Plan ahead: On Sunday, roast up a sheet pan full of root veggies cut into bite-sized pieces, then use them in a variety of salads and side dishes throughout the week. 6 / 11
Stock up on citrus
Citrus fruits are packed with vitamin C, which is involved in immune function , says Newgent. This season, feast on oranges and grapefruits and more unusual citrus varieties like the sour-tasting kumquats. "You can eat the whole thing—peel and all!" says Newgent.
Cooking tip: Of course, citrus is delicious to eat on its own. But you can also add it to smoothies or salads—try grapefruit and avocado or roasted beets with oranges. 7 / 11
Experiment with new spices
Trying spices from around the world can make everyday foods—like chicken—taste different and newly tempting. Greene personally likes Garam Masala, an Indian spice blend that typically includes coriander, cumin, cardamom and cloves.
It's delicious—and no two blends taste exactly the same. Try adding it to stews or chili, or including it in a spice rub for roasted vegetables.
Cooking tip: Play around with familiar fall-friendly spices—like cinnamon and pumpkin pie spice—in savory dishes, rather than sweet ones, suggests Newgent. She recommends adding a pinch of cinnamon in pasta sauces or pilaf, and a small amount of pumpkin pie spice to chili or guacamole. 8 / 11
Freeze for later
"Utilize your freezer for items other than packaged foods," says Greene. If you have a bounty of fresh fruits and vegetables, chop them up and stash them in freezer-safe containers or bags, she says. That way, you'll always have ingredients on hand for stir-frys, soups and more.
Cooking tip: Try adding frozen berries to pancake batter or oatmeal for a little natural sweetness. And don't forget that both veggies (like cauliflower and zuchinni) and fruits, can be thrown into smoothies, straight from the freezer. 9 / 11
Make soups
Chilly temperatures make a warm bowl of soup more appealing. Most soups—not the cream-based variety—are often a low-fat meal and an easy way to boost your vegetable intake. Plus, soup is a filling, satisfying option—a small 2012 study published in the Journal of Nutrition found that people reported less hunger and feeling full longer after the soup meal.
Cooking tip: Double the recipe, and freeze the leftovers in single-portion containers. That way, when it's late and the thought of cooking is unappealing, you'll have a healthy, easy-to-reheat option on hand. 10 / 11
Pack your lunch
Are you packing a lunch box for your kids to bring to school? Newgent suggests packing a "grownup healthy lunchbox" for yourself, too. This will allow you to manage the amount of nutrient-rich, healthy foods you're eating—instead of giving into calorie-filled, overly processed fast food.
Cooking tip: You can pack your lunchbox—or brown bag—full of leftovers. All those soups you made travel well for lunch, as do quiches and grain-based salads or bowls. Or, try these 8 nutritionist-approved lunchtime foods. 11 / 11
Visit the farmers' market
Opting to eat what's in season can be easier on your wallet, since grocery stores offer discounts on the foods that are abundantly available. And, fruits and vegetables that are fresh and seasonal tend to taste more delicious, too. Newgent recommends making weekly visits to the farmers' market part of your fall routine—during trips, you can browse for the most tempting produce and ask farmers for recommendations about how to serve it up.
Cooking tip: Gather up the apples and pears that are in season and use them to make fruit-based desserts like pies and crumbles, or eat them alone (with some peanut butter!) as a snack.
Many of the vegetables in season—including cauliflower, carrots, Brussels, sweet potatoes and winter squashes—are ideal for roasting. Just add to a baking sheet, toss with olive or avocado oil, salt, pepper and onion powder and bake at 425 for 30 minutes. Replay Slideshow