7 Easy One-Pot Meals to Make Tonight
Healthy dinners ready in 45 minutes or less—with virtually no cleanup.
Medically reviewed in February 2022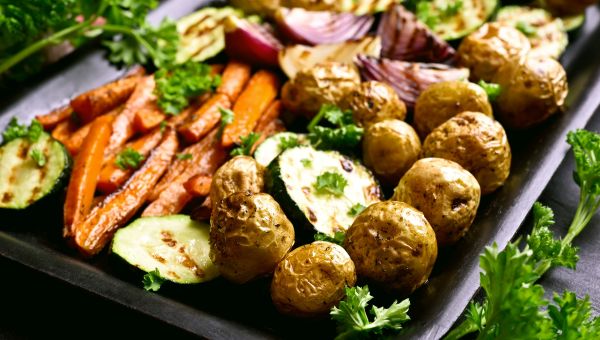 1 / 8
After an exhausting day, slaving in front of a hot stove is likely the last thing you're looking to do. Now you don't have to! These simple, delicious and calorie-conscious one-dish dinners make whipping up your next meal a breeze.
To set yourself up for week-long success, spend a few quality minutes over the weekend planning your meals and building a fool-proof grocery list. For each meal, choose a lean protein source, like chicken breast, salmon, tofu or shrimp, and pair it with a vegetable and high-fiber starch, recommends Christine Patorniti, a Registered Dietitian, Certified Diabetes Educator and owner of Nutrition Center of Colorado in Centennial, Colorado.
Come along on the tasty journey, which starts by tossing wholesome ingredients into a skillet or baking dish and ends with plating up your healthy meal and digging in. 2 / 8
Buffalo-style chicken and quinoa
Quinoa is a whole grain loaded with protein and fiber, and its mild taste makes it the perfect base for flavorful ingredients like chicken, scallions and hot sauce. To whip together this one-pot meal, dice a pound of chicken breast and brown in a pan with a tablespoon of olive oil.
Once the chicken is cooked, remove and add 2 cups of water and 1 cup of dry, rinsed quinoa to the same pan. The grain should simmer, covered, for about 15 minutes, at which time you can toss the chicken back in. Mix in a cup of shredded cabbage, a quarter cup of chopped green onions, half a cup of hot sauce and 2 tablespoons of crumbled blue cheese.
The batch can be spilt into four servings, each with just under 327 calories and 32 grams of protein. If you're watching your sodium intake, consider cutting back on the hot sauce, since it has almost 200 milligrams per teaspoon. 3 / 8
Foil-baked chicken breast
What's simpler than sticking your ingredients in the oven and eating 30 minutes later? And this particular dish is pre-portioned, too.
In a 12-inch piece of aluminum foil, layer 3 ounces of chicken breast, half a cup thinly sliced sweet potato and a cup of veggies, such as zucchini. Drizzle on just a touch of olive oil—about a teaspoon—and season your ingredients. Sprinkle on any of your favorite herbs and spices, but garlic powder, paprika and even a touch of cinnamon are tasty options.
"Olive oil is great, full of monounsaturated fat as well as polyunsaturated fat," Patorniti says. "However, a tablespoon of any oil is 120 calories, so if calorie reduction is one of your goals, be cognizant of how much you're using."
Bake your foil packet at 350 degrees Fahrenheit for about 30 minutes, or until your veggies are tender and chicken cooked through. The meal contains just 254 calories, plus about 28 grams of protein.
If you're not a fan of sweet potatoes or summer squash, lay down slices of russet potato and string beans and top with a thin layer of no-sugar-added barbecue sauce. For more variety, Patorniti recommends adding bell pepper strips or fiber-boosting green peas to your chicken and seasoning with a tablespoon of tomato salsa. 4 / 8
Pesto shrimp and zucchini noodles
This meal can be thrown together in almost no time at all. In a heated frying pan, add one tablespoon of olive oil and a pound of raw, cleaned and deveined shrimp. Cook your crustacean for about five minutes, stirring all the while, until they're plump and pink.
Next, throw in 4 cups of zucchini noodles, which can be purchased at your local grocery store or made at home using an inexpensive spiralizing tool. Veggie noodles are the perfect replacement for pasta, and can effortlessly eliminate calories and refined carbohydrates from your dish.
To add flavor, spoon in homemade pesto sauce, a blend of one garlic clove, a cup of basil leaves and 2 tablespoons of olive oil. Stir until combined. A fourth of the mixture contains about 225 calories and 27 grams of protein. Zucchini also adds a dose of immune-boosting vitamin C and touch of fiber. 5 / 8
Rosemary chicken and potatoes
On a baking sheet lined with parchment or foil (for easy cleanup), spread 4 chopped medium russet potatoes and drizzle with a tablespoon of olive oil and a dash of salt and pepper. Place 12 ounces of boneless, skinless chicken breast on the same pan, sprinkle with black pepper, garlic powder and plenty of fresh rosemary. Place in a 400 degree oven for 30 minutes. After a half hour, add 4 cups of a chopped veggie of your choice—no need to add more oil. Bake for another 15 minutes.
This recipe is as simple as chop, toss and bake. "There's a certain finesse when you do this, though" Patorniti says. "I usually put the potatoes down first in the pan and let that cook off with the chicken." The other veggies, like broccoli, red onions and bell peppers, can be enjoyed al dente, and should be added to the pan about 30 minutes into cooking. The veggies only take 15 minutes to soften up, allowing the meal to be ready in under an hour.
A quarter of the tray of chicken and potatoes contain 290 calories and 24 grams of protein. A cup of broccoli adds 31 calories to the mix; the same serving of chopped bell peppers contains 46 calories; and a cup of diced carrots, 52 calories. 6 / 8
Vegetarian fiesta skillet
Lean protein can come from plant sources, too. To create this Mexican-inspired meal, begin by sautéing two cloves of minced garlic and a quarter cup of chopped white onion with a tablespoon of olive oil. Once translucent and fragrant, add one cup of dry, rinsed quinoa, a cup each of low-sodium vegetable broth, black beans and yellow corn, drained and rinsed if you choose a canned variety, and a can of diced tomatoes.
Next comes the real flavor; add a few tablespoons of taco seasoning, give your skillet ingredients a stir and cook, covered, for 30 minutes or until the grains are tender. Many store-bought seasoning blends contain hidden sodium, Patorniti warns. Mixing your own can be just as simple. In a pinch, you can sprinkle in cumin, chili powder, salt and pepper, or elevate the flavor by adding a dash of paprika, garlic and onion powder, oregano and chili flakes.
Dish up a fourth of the batch and you're ready to eat! Each serving contains 336 calories and almost 12 grams of protein, plus, vitamins A and C, iron and folate. You can top your bowl with shredded cheddar cheese or a bit of avocado, but be sure to tally those calories, too. A quarter cup of cheese contains 110 calories and a quarter of an avocado, about 81 calories. 7 / 8
Lemon and herb salmon with green beans
Patorniti has a special method for cooking her salmon, it keeps the filet moist and crisps the skin. Before laying your fish on a baking sheet, skin side down, heat your pan in the oven for a few minutes. Then top each 3-ounce fish with a teaspoon of olive oil, a sprinkle of salt and lemon zest and a few thin slices of lemon. "It steams while cooking and the lemon gets infused in the process," she says.
Depending on the thickness of your salmon filet, you may need to pop it in the oven before adding your green beans to the tray. If you're pairing this nutritious meal with potatoes, like tender fingerlings, arrange them on the tray with the salmon. The meal should cook at 350 degrees Fahrenheit for about 30 minutes.
Per serving—three ounces of salmon, a cup of green beans tossed in a touch of balsamic vinegar and a half cup of herb-roasted potatoes cooked with 1 tablespoon of oil—this dinner contains 325 calories and about 21 grams of protein. Don't go overboard when adding a touch of oil to the potatoes and green beans or extra calories may add up.
Patorniti offers another tip to save you time throughout the week. If you know Tuesday is going to be busy, cook two one-pan meals on Monday, when you already have the oven hot. 8 / 8
Baked shrimp and veggie "stir-fry"
Forget what you think you know about a traditional Asian stir-fry. This recipe requires less effort and doesn't involve a takeout menu. On a baking sheet, arrange 2 cups each of chopped bell peppers, zucchini and sugar snap peas.
"Really any vegetable goes, the more variety, the better," Patorniti says. She recommends trying asparagus, artichoke hearts and peppers to add a plethora of flavors and nutrients to your plate. You can also toss broccoli florets, carrots, mushrooms, onion or any other in-season veggies on your pan.
Coat your veggies in 2 tablespoons of sesame oil, a teaspoon of fresh, grated ginger, a sprinkle of pepper and a quarter cup of coconut aminos, which is a lower sodium alternative to soy cause. Like a little kick? Toss in some crushed red pepper flakes. Bake at 350 degrees Fahrenheit for 15 minutes, add a pound of shrimp to the pan and bake for another 10.
Divide the batch into four even servings and get your fork ready. If you want to add a half cup of cooked brown rice to your bowl, go right ahead! Cooking up a large batch of healthy whole grains in the beginning of the week makes for easy noshing for days to come. Including the rice, this meal contains 348 calories and almost 28 grams of protein. Replay Slideshow