6 Ways to Get the Most Out of Your Next OBGYN Appointment
Here's what gynecologists want their patients to know.
Medically reviewed in July 2022
Updated on July 26, 2022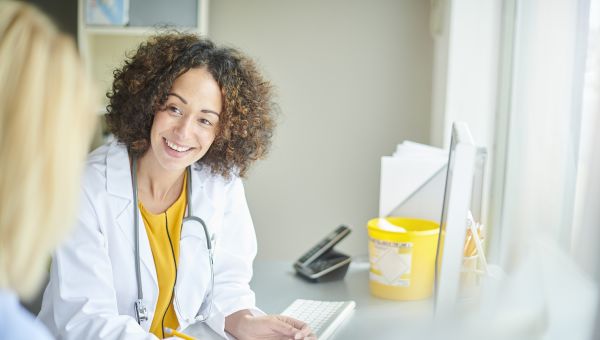 1 / 7
Going to the gynecologist, especially if it's your first time, can make anyone a bit nervous. You may be anxious about tests, for example, or worry that you'll feel judged. But a trip to an OBGYN, a certified nurse practitioner, a certified nurse midwife, or another women's health professional doesn't have to be a stressful situation. Just like any other provider, their job is to keep you healthy.
That said, you're in the driver's seat—and getting the most out of your visit means knowing what to expect and how to prepare. Try these tips for best results. 2 / 7
Find a Provider You Trust
Having a trusting relationship with a healthcare provider (HCP) is important. "If you're not getting along with your [OBGYN], then fix your situation," says Arjav Ted Shah, MD, of Orange Park Medical Center in Florida. "Find one who will pay attention to you, know you as a person as opposed to just a patient or diagnosis, so that you feel you are being treated well, being listened to, and directed."
To find a women's health provider that's right for you, ask friends and family what they think about their current practitioner. Your own primary health provider may also be able to refer you to someone. The American College of Obstetricians and Gynecologists has searchable directories to help you find the best clinician in your area, as well. 3 / 7
Know Your Body and What's Normal
It's important to be in tune with your body so you can recognize when something isn't normal, says Shah. "Know what your breasts feel like [and] your normal discharge and menstrual cycle pattern," he advises. "If you find any bumps or notice a change in discharge or abnormal bleeding, bring it to a physician's attention."
Remember: As with any other healthcare provider, it's critical to be open and honest about your concerns, symptoms, and medical history with your OBGYN. Talking about certain issues or your sexual past may feel uncomfortable, but the information is vital to your health. Among many other things, it will help determine screenings you might need, safety measures to consider, and if necessary, the best course of treatment for you. 4 / 7
Come Prepared To Your Appointment
Write down your health concerns and questions before your appointment and bring the list with you, suggests Darcy Bryan, MD, of Riverside Community Hospital in California. "It's pretty surprising how the second you walk into the office your mind can go blank and you can forget all of your questions," she says. Topics to address can include new symptoms, menstrual issues, birth control, and screenings, among many others.
It's also helpful to bring a list of medications, supplements, and vitamins you use. Knowing what you take can aid diagnoses and treatment decisions, and help your provider avoid dangerous interactions if they prescribe you a drug.
Try to wear comfortable, loose clothing to your visit, since you'll have to change in and out of a medical gown. Bryan also recommends not having sexual intercourse 72 hours before your appointment in case you need a Pap test. Having sex prior to a Pap smear may inflame your tissue and can affect your test results, she says. Also not advised in the days leading up to your exam: using douche, a tampon, a vaginal medicine or cream, or a birth control foam, cream, or jelly.
While your provider can examine you when you're menstruating, you may want to avoid making an appointment during your period. 5 / 7
Got Other Health Concerns? Tell Your Gyno
It's wise to have a primary provider for comprehensive medical care. But these days, it's important to know that gynecologists do more than Pap smears and breast exams, says Shah. When people come for their annual visits, gynecologists are able to evaluate them for other conditions and talk to them about preventive health care measures, he explains. Gynecologists can even order tests that you would normally expect to get from a family provider. 6 / 7
Don't Self-Treat Before Seeing a Provider
If you have unusual symptoms, such as itching or foul-smelling vaginal discharge, don't try to treat them yourself with over-the-counter medications until an HCP has evaluated you.
Why? You might be wrong.
For example, you may take something for a yeast infection with no success, because you actually have a condition often mistaken for it, such as bacterial vaginosis, which requires antibiotics. You also run the risk of unnecessary treatment or using something that could worsen your condition.
Instead, make an appointment to see your gynecologist so you can be properly diagnosed, says Bryan. If you can't get in right away, she suggests going to a primary provider or urgent care, where they can make an accurate diagnosis and recommend effective treatments. 7 / 7
Don't Go It Alone
It's always good to have an advocate, such as a trusted friend or spouse, come with you to the gynecologist, especially when you have to make an important health decision or get information on surgery.
"Having a second pair of eyes [and ears] that are sympathetic to you [helps], especially if you're under high levels of stress where you can forget key pieces of information or instructions or questions to ask," Bryan says. If your advocate is open to it, ask them to take notes for you during the appointment. Replay Slideshow
Slideshow sources
The American College of Obstetricians and Gynecologists. Find an OBGYN. 2022
The American College of Obstetricians and Gynecologists. Your First Gynecologic Visit. June 2022. Accessed July 22, 2022.
Planned Parenthood. Can you get a pelvic exam when you have your period? June 29, 2020. Accessed July 22, 2022.
John Hopkins Medicine. Pap Test. 2022. Accessed July 22, 2022.
Rachel Urrutia. What's the difference between a yeast infection and bacterial vaginosis? UNC Health. December 11, 2019.
Mayo Clinic. Pelvic exam. July 24, 2021. Accessed July 26, 2022.
American Cancer Society. The Pap (Papanicolaou) Test. January 3, 2020. Accessed July 26, 2022.
Centers for Disease Control and Prevention. What Should I Know About Screening? December 14, 2021. Accessed July 26, 2022.