6 Things Your Gyno Wants You to Know
Get the most out of your next OBGYN appointment with these expert tips.
Medically reviewed in August 2019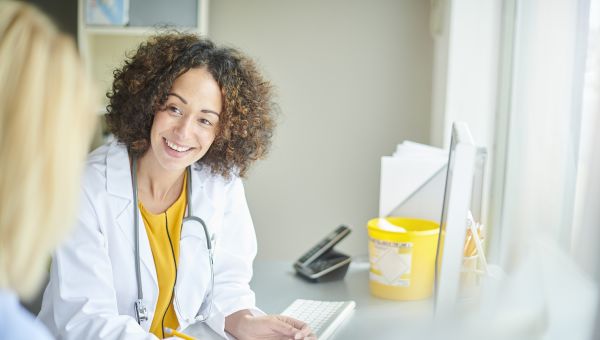 1 / 7
Few women like going to the gynecologist. The appointments can be awkward and embarrassing, especially if you have a health concern. But they don't have to be. Darcy Bryan, MD, of Riverside Community Hospital in California and Arjav Ted Shah, MD, of Orange Park Medical Center in Florida explain how you can get the most out of your gynecologist appointments. 2 / 7
Find a Provider You Trust
Having a trusting relationship with a healthcare provider (HCP) is important, says Dr. Shah. For women, it's usually their OBGYN, he says. "If you're not getting along with your [OBGYN], then fix your situation," says Shah. "Find one who will pay attention to you, know you as a person as opposed to just a patient or diagnosis, so that you feel you are being treated well, being listened to and directed." 3 / 7
Know Your Body and What's Normal
It's important to be in tune with your body so you can recognize when something isn't normal, says Shah. "Know what your breasts feel like [and] your normal discharge and menstrual cycle pattern," he advises. "If you find any bumps or notice a change in discharge or abnormal bleeding, bring it to a physician's attention." 4 / 7
Be Prepared for the Appointment
Write down your health concerns and questions before your appointment and bring the list with you, suggests Dr. Bryan. "It's pretty surprising how the second you walk into the doctor's office your mind can go blank and you can forget all of your questions," she says. Having a list can help.
Bryan also recommends not having sexual intercourse 72 hours before your appointment in case you need a Pap smear. Having sex prior to a Pap smear can affect your test results, she says. 5 / 7
Got Other Health Concerns? Tell Your Gyno
These days, gynecologists do more than Pap smears and breast exams, says Shah. When women come for their preventative annual visits, gynecologists are able to evaluate them for other conditions, as well and talk to them about preventive health care measures, he explains. Gynecologists can even order tests that you would normally expect to get from a family doctor. So, don't be afraid to bring up other health concerns with your gynecologist. 6 / 7
Don't Self-Treat Before Seeing a Provider
If you have unusual vaginal discharge or suspect you may have a yeast infection, don't try to treat it yourself with over-the-counter medications until an HCP has evaluated you. Make an appointment to see your gynecologist so you can be properly diagnosed, says Bryan. If you can't get in to see your gynecologist right away, Bryan suggests going to an urgent care where they can make an accurate diagnosis and recommend effective treatments. 7 / 7
Don't Go It Alone
It's always good to have an advocate, such as a trusted friend or spouse, come with you to the gynecologist, especially when you have to make an important health decision or get information on surgery. "Having a second pair of eyes [and ears] that are sympathetic to you [helps], especially if you're under high levels of stress where you can forget key pieces of information or instructions or questions to ask," Bryan says. Replay Slideshow