6 Low-Calorie Foods To Buy at Trader Joe's
Cauliflower pizza crust and other prepackaged foods that won't blow your diet.
Medically reviewed in September 2019
1 / 7
When you're rolling through grocery aisles crammed with tempting foods, making healthy choices can be a challenge. But it doesn't have to be. We spoke with Tammy Baranowski, RDN, a licensed dietitian with Orange Park Medical Center in Orange Park, Florida, about some of the products available at Trader Joe's, a leading American grocery chain.
Low in calories and loaded with nutrients, these foods come fully cooked and require minimal effort to prepare. Keep in mind, if you have allergies or specific dietary restrictions, it's important to read nutrition information before buying prepared or prepackaged foods. For example, people following low-salt diets should be sure to check the sodium content on each label. Also to note: These products may be discontinued at any time. 2 / 7
Organic split pea soup
Full of fresh ingredients like peas, onions and carrots, this soup makes a simple, low-calorie dinner when you're crunched for time. Just heat for a few minutes on your stovetop and you're good to go. It's one of Baranowski's favorites.
Per cup, TJ's split pea soup contains 130 calories and 6 grams of fiber, which helps regulate bowel movements and helps you feel fuller, longer. To keep your digestive system happy, strive to get the daily recommended amount of fiber—25 grams for women and 36 grams for men.
For a full meal, pair a cup of soup with a slice of 70-calorie whole grain toast and an apple or banana. 3 / 7
Grilled chicken strips
Grilled chicken breast is a good source of lean protein—an essential part of a healthy diet—but we don't always have time to fire up the grill.
"I'm a busy, working mom, so I do look for convenient items that don't have a lot of additives and preservatives," Baranowski says.
Depending on your location, you may be able to find the chicken fresh or frozen. Each 3-ounce serving contains between 100 and 130 calories and more than 20 grams of protein. Add it to your lunchtime salad, heat it and eat it with steamed veggies or stir it into a bowl of whole-grain pasta topped with olive oil and a little Parmesan cheese.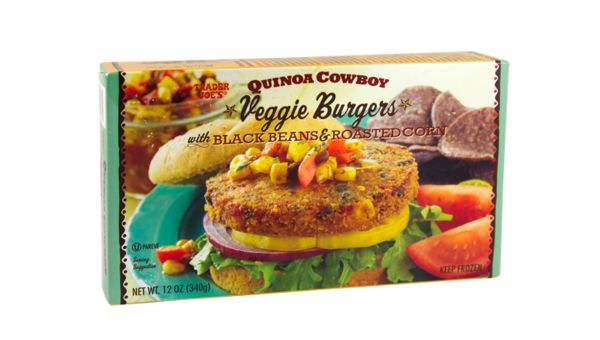 4 / 7
Quinoa cowboy veggie burger
The freezer section at your local Trader Joe's is stocked with foods that make low-calorie dining quick and simple. These frozen veggie burgers are no exception, says Baranowski. "The amazing frozen food is probably the biggest reason I go to Trader Joe's," she admits.
Compared to a traditional beef burger, which packs 230 calories and 15 grams of fat, these veggie patties contain just 180 calories and 8 grams of fat. Have one open-faced on a slice of whole grain toast with a dollop of mustard for a 250-calorie meal.
The patty's 6 grams of fiber are an added benefit. Heat one up in the microwave or on the stovetop and enjoy.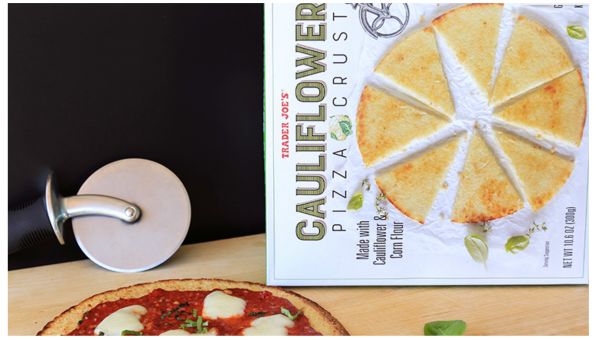 5 / 7
Cauliflower pizza crust
Pizza is an American staple, but it's not always friendly to your waistline. A single slice—one-eighth of a typical 12-inch pizza topped with tomato sauce and cheese—has about 210 calories.
And while not all cauliflower crusts are healthier or lighter than regular crusts, Trader Joe's brand delivers delicious pizza flavor with fewer calories and carbohydrates. One serving, or one-sixth of the pie crust, contains just 80 calories.
"You could load your crust with veggies, a little olive oil and some marinara sauce, and that's a great family pizza night," Baranowski recommends. Or, you could top each slice with 2 tablespoons of no-sugar-added tomato sauce and a sprinkle of low-fat mozzarella cheese (also available at Trader Joe's) for a guilt-free dinner with slightly more than 130 calories per slice.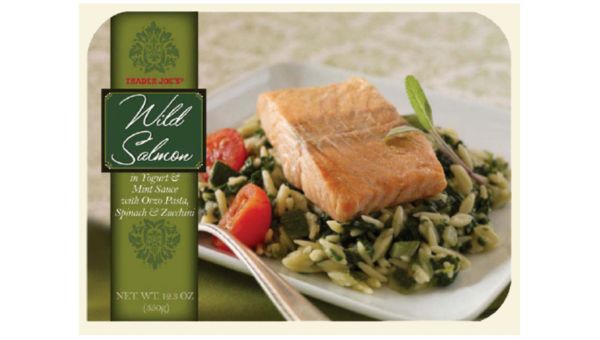 6 / 7
Wild salmon in yogurt and mint sauce
Often loaded with salt and preservatives, frozen dinners aren't typically a healthy dining choice. But this wild salmon and orzo combination is quite the exception, says Baranowski. "It's really nice for taking to work when you're on the go," she explains.
With just 350 calories and 24 grams of protein, it's a complete meal that will help you power through your afternoon. Pop it in the office microwave for a gourmet lunch that's ready within minutes. 7 / 7
Steamed and fully cooked lentils
Lentils are low in calories, high in fiber and a great source of plant-based protein—9 grams per 1/2 cup. The problem is, they typically take quite a while to cook. Trader Joe's solves that problem with these ready-to-eat legumes, which need just a quick rinse before use. To find them at the store, skip the pasta aisle and head to the produce department. They're usually stocked in the refrigerator beside beets, kale, butternut squash and other nutrient-packed veggies.
Need serving suggestions? Replace grilled chicken in your lunchtime salad with lentils or stir them into a store-bought soup. For a show-stopping Buddha bowl, load a heaping spoonful into a wide, shallow bowl and layer in your favorite veggies, like roasted sweet potato, spinach, broccoli and beets. Then, top it off with a few slices of avocado for a good dose of healthy fats.
Sources:
Mayo Clinic. "Weight-loss basics," "Dietary fiber: Essential for a healthy diet."
Trader Joe's. "Fearless Flyer."
MyFitnessPal. "Trader Joe's Organic Split Pea Soup," "Trader Joe's Grilled Chicken Strips," "Trader Joe's Quinoa Cowboy Veggie Burger," "Spicy Brown Mustard," "Trader Joe's Cauliflower Pizza Crust," "Sugar-free Tomato Sauce," "Shredded—Part Skim Mozzarella
National Academy of Medicine. "Dietary Reference Intakes: Macronutrients."
SELF Nutrition Data. "Bread, multi-grain, toasted," "Beef, ground, 80% lean meat/20% fat, patty, cooked, broiled,"
MedlinePlus. "Nutrition." Replay Slideshow