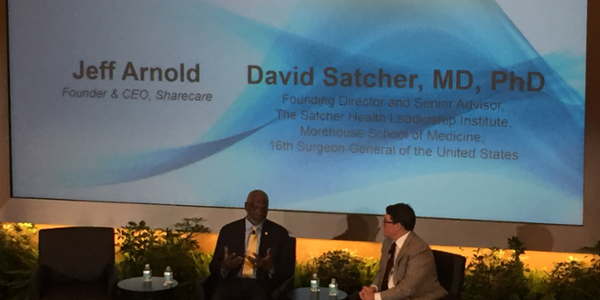 As I mentioned in my
blog last week
, we're in the midst of a very busy - and inspiring - time to work in digital health. Last Thursday and Friday were no exception as I had the good fortune to spend time with some of the most well respected voices in health at the
Lake Nona Impact Forum
. From CNN's Dr. Sanjay Gupta to Johnson & Johnson worldwide chairman Sandi Peterson and Deepak Chopra to name a few, the roster of speakers was impressive. However, it's refreshing - and unique - to see such respected thought leaders in the audience listening to
other
speakers. Everyone attends the Impact Forum to
participate
, including someone I had the pleasure to interview on stage,
Dr. David Satcher.
The 16th Surgeon General of the United States, former director of the CDC and founder of the
Satcher Health Leadership Institute
, Dr. Satcher spent far more time listening at the Impact Forum than he did talking - but when he spoke, he made it count. At one point during our fireside chat, he articulated a very complex concept in the simplest of language: "Talent is distributed evenly. Opportunities are not," and explained that it is our collective responsibility to ensure opportunities are, in fact, evenly distributed when it comes to healthcare.
Dr. Satcher's comments are a strong reminder of why we built Sharecare: to provide
all
people with the health information and tools they need, anytime, anywhere and on any device.