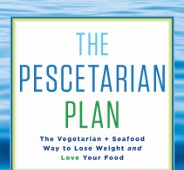 My latest book!
Curious about this super-healthy (and slimming) way of eating? Check out ThePescetarianPlan.com
Bio
Janis Jibrin, M.S., R.D., is a nutritionist who loves everything about food—from eating it to researching its remarkable effects on the body.

She has written hundreds of nutrition-related articles published in Dr. Oz, The Good Life, Good Housekeeping, Self, and other magazines. Her many blogs appear on TheBestLife.com, DietsInReview.com and elsewhere on the web. Her latest book is The Pescetarian Plan, which advocates a Mediterranean "vegetarian + seafood" way of eating.

As a Sharecare scientific advisory board member, Ms. Jibrin answers a wide range of questions from what to eat if you have diabetes to the effects of stress on body fat.

Ms. Jibrin is a registered dietitian with a Master of Science in Nutrition from the University of Maryland in College Park. She also holds a BS in Foreign Service from Georgetown University.

Credentials
Education

Master of Science in Nutrition, University of Maryland, College Park

Bachelor of Sciend in Foreign Service, Georgetown University, Washington DC

Internship

Dietetic internship at Georgetown University Hospital, Washington DC

Additional Certifications of Specialty Qualifications

Registered Dietitian

Professional Membership or Societies

Academy of Nutrition and Dietetics

Publications

The Pescetarian Plan

The Best Life Guide to Managing Diabetes and Pre-diabetes

The Supermarket Diet

The Life You Want--Get Motivated, Lose Weight and Be Happy