one platform: community
---
Live Longer Better
Blue Zones Project® is helping transform communities across the U.S. into areas where the healthy choice is easy and people live longer with a higher quality of life.
GET INVOLVED
Make the healthy choice
the easy choice
Blue Zones Project is a community well-being improvement initiative designed to change the way people experience the world around them. By impacting environment, policy, and social networks, Blue Zones Project makes healthy choices easier. As a result, people can live longer, better, and communities can lower healthcare costs, improve productivity, and boost national recognition as a great place to live, work, and play.
LEARN MORE ABOUT BLUE ZONES PROJECT
+4.4%
OVERALL WELL-BEING
FORT WORTH, TEXAS
+12%
LIFE EVALUATION
BEACH CITIES, CALIFORNIA
-15%
OBESITY
IOWA CITY, IOWA
-10%
DAILY STRESS
BEACH CITIES, CALIFORNIA
+17%
EXERCISE
MUSCATINE, IOWA
-17%
SMOKING
FORT WORTH, TEXAS
& BEACH CITIES, CALIFORNIA
*Survey is administered annually in all Blue Zones Project communities to calculate real medical and productivity cost savings. Results serve as a comparison to the cost of doing nothing.
Communities and their citizens are passionate about changing things for themselves and for their children's future. We're just lighting the lamps so individuals, businesses and local governments can see the path to long-term, meaningful improvement.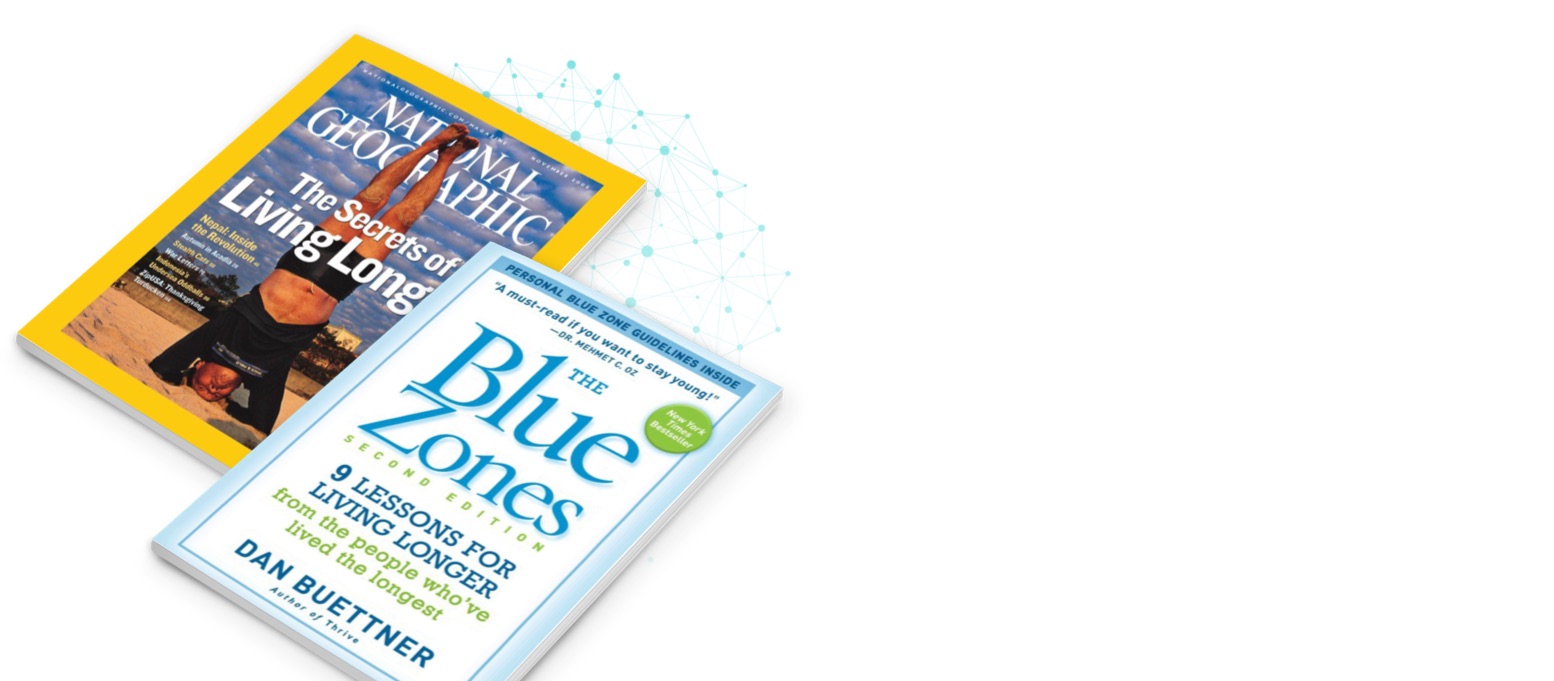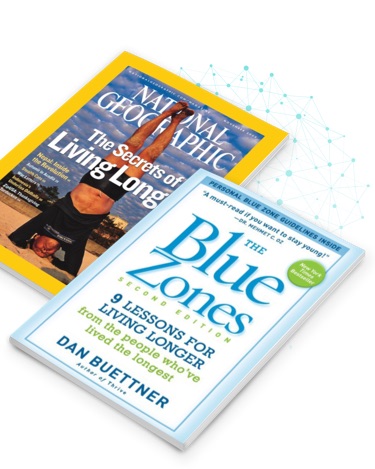 Fifteen-year longevity study to discover the world's healthiest, longest-lived people
It all started with one man's vision. National Geographic Fellow and explorer Dan Buettner traveled around the world to find where people lived the happiest, and the healthiest, the longest. He dubbed these areas "Blue Zones", and published his results initially in National Geographic in 2005 — still the 3rd-best selling issue ever — and then a series of The New York Times bestselling books. These publications revealed The Big Insight of The Blue Zones — which is that Their Environment Supported Their Well-being.
A blueprint for living
better in the U.S.
Blue Zones Project, a partnership between Blue Zones and Sharecare, helps communities accelerate transformation through a comprehensive set of solutions designed to improve overall well-being. These solutions have measurably lowered healthcare costs, increased productivity, and improved the quality of life for residents in those communities.
LEARN MORE ABOUT BLUE ZONES PROJECT
Get started with your own
community transformation
Sign up to be inspired by Blue Zones Project
and discover how you can get involved!