Itching! Itching is the most common complaint of someone with a vaginal yeast infection. White or yellow thick discharge can also occur. A rash on the outside can be red and itchy. Odor is usually associated with other types vaginal infections that are caused by bacteria, not yeast.
Taking a prescription given by your physician is preferable to over-the-counter (OTC) yeast medications as some can cause rashes, or contact dermititis. Some of the OTC products have chemicals that can cause allergic reactions.
Continue Learning about Yeast Infections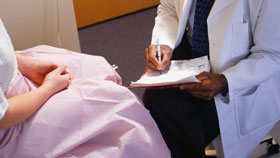 Vaginal yeast infection is the most common yeast infection. Men can get yeast infections too, and people with diabetes or compromised immune systems may also get yeast infections. Some are not genital infections, but can affect th...
e mouth or other parts of the body. Treatment is either a topical application or an oral medication. Learn more about yeast infections from our experts.
More