The symptoms of candidiasis vary somewhat with the part of the body that is infected. Candidiasis of the mouth, also called thrush, is characterized by painful, irregular white spots or lesions in the mouth. Sometimes the tongue is very red and the corners of the mouth may crack. Thrush can spread to the esophagus and cause pain when swallowing. On the skin, candidiasis appears as a painful, itchy red or white rash. When candidiasis infects a woman's vagina, the symptoms are typically itching, pain, and a thick white or yellow discharge.
Continue Learning about Yeast Infections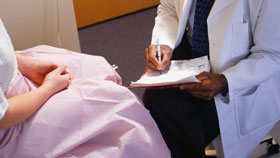 Vaginal yeast infection is the most common yeast infection. Men can get yeast infections too, and people with diabetes or compromised immune systems may also get yeast infections. Some are not genital infections, but can affect th...
e mouth or other parts of the body. Treatment is either a topical application or an oral medication. Learn more about yeast infections from our experts.
More