A favorite saying I once heard (and sadly don't know who said it) is that "Experience is the comb that life gives us when we're bald." This leads us to conclude that growing older means growing wiser. Wisdom is a positive thing. Knowledge is power, and empowerment for women is energizing. Knowledge about life experiences, as well as knowledge about health and aging, can provide women with strength, both physically and emotionally. Comfort in knowing you did the best you could....can bring a sense of contentment and joy, which are both very fulfilling.
In order to become fearless about growing older, we should know what to expect as time changes our bodies. This preparation can help us adjust to the changes with less apprehension.
And it's not all bad. Most of us know to anticipate hot flashes and drier skin with menopause. But there are other changes -- in the female brain in particular -- that we should look forward to. Louann Brizendine's book The Female Brain explains how, beginning in midlife, due to changes in our hormone levels and brain chemistry, women start to care less about others' opinions and more about what matters to them. This is also the time when more women than men initiate divorce. According to Brizendine, during childbearing years, a woman's brain is "programmed with a delicate interplay of hormones, physical touch, emotions, and brain circuits to care for, fix, and otherwise help those around her. Societally, she has always been reinforced to please others."
However, starting at perimenopause and continuing into menopause, women experience "a new constancy in the flow of impulses through their brain circuits. This replaces the massive surges and plunges of estrogen and progesterone caused by the menstrual cycle." The change also relieves "the urge to avoid conflict at all costs." We are witnessing what Brizendine calls "the Mommy Brain beginning to unplug." The happy consequence is that a lot more energy becomes available to us. These hormonal and brain chemistry changes also coincide with a drop in testosterone (yes, we have it), which regulates our sex drive. For some women this means less interest in sex, but for others it prompts what anthropologist Margaret Mead called "postmenopausal zest" -- and a greater desire for adventure and new beginnings. Not a bad trade-off for drier skin and hot flashes.
It's not just our emotions and our sex drive that change as our brain ages. Although our basic intellectual capacity doesn't change, our style of thinking does. "Older adults move toward a simpler and more direct style of writing or painting, for example, that is easier for other people to understand," according to Professor Carolyn Adams-Price, a member of the Gerontology Committee at Mississippi State University. It's good to know that we are wired for greater simplicity as we mature.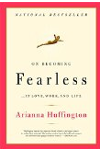 More About this Book
On Becoming Fearless...in Love, Work, and Life
Observing that her own teenage daughters were beginning to experience some of the same fears that had once burdened her--how attractive am I? do people like me? do I dare speak up?--Arianna...
Continue Learning about Women's Health

Did you know that women are more likely to seek medical care than men? Sexual health needs, like pregnancy and contraception, often necessitate early visits to a doctor. But as we age, various health issues affect women more than ...
men, including depression, weight problems, and certain types of arthritis.In order to maintain your health and wellness, make sure you get an annual checkup.
More