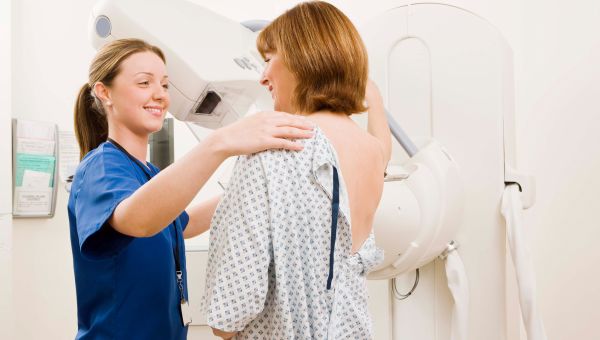 For women older than age 40, mammogram screening schedules, including when to start and how often to get them, may vary widely.
In 2019 alone, the American Cancer Society estimates that more than 300,000 American women will be diagnosed with breast cancer, and almost 42,000 will die of the disease. Hands down, mammograms are the best method for early detection, when there are more options for treatment and a better chance of survival. And while experts agree that screening is essential, there's some disagreement among major medical organizations regarding the age to begin and how often to have it done.
"For average-risk women, it's about whether to start mammograms at the age of 40, 45, or 50, and whether those mammograms should take place every year or every two years," says Adrian M. Roznowski, MD, an OBGYN at Plantation General Hospital and Westside Regional Medical Center, as well as medical director at Advanced Women's OB/GYN Institute of Broward in Plantation, Florida. Each organization weighs the benefits and potential harms of screening a bit differently, he says, and that influences their recommendations—but it can lead to some confusion.
Understanding why the guidelines differ can help women discuss mammography with their healthcare providers (HCPs). Together, they can make informed choices about screenings. Here's what you should know to make the best decision for you.
Getting to know the guidelines
For women with an average breast cancer risk, none of the four organizations in question advise starting regular mammograms before age 40. The disease isn't as common during those years, and it's largely agreed upon that the potential harms (more on those below) significantly offset the benefits. The recommendations are as follows:
American Cancer Society (ACS): Women can start screening between ages 40 and 45 if they so choose. Beginning at 45, the ACS recommends annual mammograms. From 55 to 74, getting screened every one or two years is recommended.
American College of Obstetricians and Gynecologists (ACOG): At age 40, average-risk women should be offered the option. By 50, all women should be screened every one or two years.
National Comprehensive Cancer Network (NCCN): Yearly mammograms should start at 40.
United States Preventive Services Task Force (USPSTF): Women may choose to begin screening at 40. Between 50 and 74, they should have mammograms every two years.
Keep in mind, mammography recommendations are different for women at a higher risk of breast cancer, such as those with certain genetic mutations or a personal or family history of the disease. These women should typically begin regular screenings sooner and may have them more frequently. Speak with your HCP about assessing your own risk for the disease.
How long should you keep getting mammograms?
In short, there's no absolute age that screening should be discontinued. Instead, the organizations generally advise that women review their screening decisions when they turn 75 or when life expectancy is 10 years or less. If it's anticipated a woman will live another decade, it may be beneficial to keep up with regular imaging.
"In our office, when somebody reaches the age of 75, we have a discussion," says Dr. Roznowski. "If the patient desires to continue screening, they may certainly do so."
The basics of benefits and harms
In creating their guidelines for average-risk women, the ACS, ACOG, NCCN and USPSTF tried to balance the potential benefits of mammograms with their possible harms.
The benefits of mammograms are significant and well-known: regular screening can prolong and save lives. Between 1989 and 2016, the American breast cancer death rate fell 40 percent, likely due in part to the wider awareness and implementation of mammography.
Mammogram harms may be less familiar to the general public, which is why it's important to discuss these with your doctor. One common harm is the potential for a false positive. False positives are mammograms that appear abnormal at first but turn out to be non-cancerous. Whenever a woman receives abnormal results from a screening, she's called back for further testing, which can be costly and anxiety-inducing. They happen in about 1 of 10 mammograms.
Other possible harms include overdiagnosis and overtreatment. Overdiagnosis occurs when a mammogram detects a relatively minor cancer—one that would never progress into a critical, symptomatic problem, and may even disappear on its own eventually. Overtreatment is the unnecessary treatment of these cancers, which can cause serious, otherwise avoidable mental and physical side effects. It's difficult to tabulate the number of women overdiagnosed and overtreated annually, since doctors can't predict exactly which tumors will become potentially life-threatening.
Mammogram radiation may also be considered a harm. However, the chance that the X-ray exposure itself could lead to cancer is very low. "The risk of radiation-induced cancer is dwarfed by the benefit of detecting cancer in somebody over 40," says Roznowski.
Deciding what's right for you
As women discuss screenings with their HCP, they should take these benefits and harms into account. For those between 40 and 49, who tend to have lower breast cancer rates than older women, the benefits of mammography may be significant but so is the risk for false positives, overtreatment and overdiagnosis—as well as the anxiety and stress that these outcomes may cause. For most women age 50 to 74, on the other hand, the benefits of regular screening tend to outweigh the harms. Your HCP can help you determine the frequency at which you should be screened.
Ultimately, choosing whether to initiate regular mammograms before age 50 is up to each individual woman. Mammography guidelines serve as excellent references, and should be important factors in the decision, along with your individual risk, personal preferences and the advice of your HCP. Together, you can come to a screening decision that serves you best.
Just remember that it's important to initiate the conversation in the first place, says Roznowski. "At the age of 40, a woman should at least talk to her doctor."
Medically reviewed in June 2019