The delivery team will help you deliver the placenta by applying pressure to your abdomen. They'll inspect it when it comes out to make sure it's all there. If a piece is missing, they'll do an ultrasound to locate the missing piece and plans will be made to remove it, ideally within the first 15 minutes after delivery, since your cervix is still dilated and you may still be enjoying the effects of anesthesia. However they may wait longer if necessary. If the missing fragments can't be removed at the bedside, you may have to undergo a procedure called a D&C to get them out.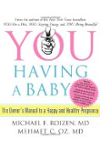 After having her baby, there's one more thing left for a woman to deliver: a placenta. Find out more from Dr. Oz as he explains how long it takes in this video animation.
After the baby is delivered and the umbilical cord is cut, delivery of the placenta usually follows spontaneously. In this video, I will explain the placenta delivery process.
The placenta is delivered during the
third stage of labor. The third stage of labor incorporates the time from the delivery of the infant to the delivery of the placenta. It is the shortage stage lasting less than 30 minutes in most births. During this stage, the uterus continues to contract and rises upward in the abdomen as the placenta detaches from the uterine wall. A sudden trickle or gush of bright red blood appears as the placenta separates from the uterine wall. The uterus assumes a globe shape as the placenta is delivered and the third stage of labor is completed.
Continue Learning about What Will Happen After Delivery & Pregnancy