Sometimes there is a delay in the delivery of the placenta after the baby has been born. In other instances the placenta is delivered, but it is clear that some fragments remain in the uterus. It is extremely important that these fragments be removed, as they may allow blood vessels to remain open, causing hemorrhage either shortly after delivery or several days to weeks after delivery. You are also at risk for infection in the uterus if the fragments are not removed.
If your placenta does not come out spontaneously within about thirty minutes after you give birth, your provider may gently massage your abdomen, ask you to push, and/or attempt to stimulate uterine contractions by giving you Pitocin or asking you to breast-feed. If these techniques are not successful, she or he may attempt a manual extraction of the placenta (removing it by hand). Your provider may also use suction or a scraping instrument to remove small fragments, under ultrasound guidance if it is available.Sometimes the placenta seems to have been expelled completely, but days or weeks later a woman may have a sudden episode of heavy bleeding that continues or comes and goes, often accompanied by moderate to severe cramping. If this happens to you, call your health care provider immediately.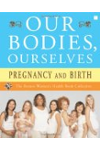 More About this Book
Our Bodies, Ourselves: Pregnancy and Birth
ALL THE INFORMATION YOU NEED TO MAKE WISE DECISIONS ABOUT YOUR PREGNANCY AND THE BIRTH OF YOUR CHILD -- FROM THE EDITORS OF THE CLASSIC "BIBLE OF WOMEN'S HEALTH" Pregnancy and birth are as ordinary...
Continue Learning about What Will Happen After Delivery & Pregnancy