As a society, we have programmed ourselves to eat in a way that is unnatural and harmful. We mistakenly prefer the taste of harmful foods. The most natural and healthy way of eating now seems strange, and eludes us. The benefits of eating natural foods, as opposed to processed foods, seem obvious, yet they are lost to many.
Here are a few of the common excuses that I hear from people:
"It takes too much effort and time to prepare fresh food."
"I don't like the taste of fruits and vegetables"
"People will think I am strange if I eat this way."
Even if you don't voice these objections, you may still be thinking them. They form the core of your inner dialogue. This kind of talk is not useful. Its purpose is to prevent you from taking action.
It is a type of learned helplessness; you didn't believe you can succeed so you create a rationale for not trying. Right now, resolve to fight those thoughts when they enter your head. These excuses are not based on facts. They are opinions formed before adequate knowledge was available, and as you now know, knowledge is the cornerstone to success. Your internal programming and fixed beliefs can have you fail before you even start. This internal programming operates outside of your conscious awareness, yet it influences your thoughts and action.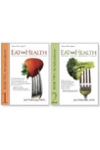 Continue Learning about Weight Loss