The average American will gain about one pound of additional weight each year from age 25, or 35 additional pounds by the age of 60; because we typically also lose about a half pound of bone and muscle mass each year -- unless we're physically active, of course -- then our body fat is increasing by 1.5 pounds each year from the age of 25 to 60, or more than 50 pounds of fat over 35 years. Sometime later in life, after the age of 70 or 80, our weight typically begins a slow decline.
However, this decline in weight doesn't mean loss of all the fat we gained earlier; rather, as we age, we tend to lose still more muscle tissue and bone density while the amount of body fat remains the same or even increases.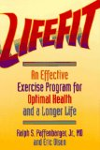 An average person begins to gain about one pound each year after age 35. So during midlife, you can expect to gain a whopping ten to fifteen pounds?! Yikes! And, you guessed it, this middle-aged gain usually lands right in our middle -- around the belly, hips, and thighs.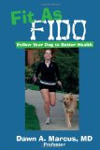 More About this Book
Fit As Fido: Follow Your Dog to Better Health
Let your dog teach you to live a happier, healthier, and more fulfilling life! Companionship with your pet can be used as a means and a motivator to increase your own physical and mental fitness....
Continue Learning about Weight Loss