Many women, anxious to get back to their pre-baby weight, go on crash diets that leave them feeling tired and irritable (the last thing you need right now!). Try to relax and don't be in too much of a hurry to lose the remaining pregnancy weight. Remember, it took 9 months for you to put it on. In fact, eight to 12 months is not an unreasonable amount of time to safely lose the weight. In the early post-partum weeks, your body is still trying to heal and readjust to its pre-pregnancy state. Once you are a few months post partum, here are a few tips: Try to eat healthy foods in slightly smaller portions; If you were very liberal with your diet during pregnancy (lots of sweets, snack foods, etc.) try to take some of those out of your diet, and replace them with fruits and vegetables; Aim for well-balanced snacks every few hours (sometimes setting an alarm clock or writing yourself a sticky note to help you remember) to help prevent you from getting too hungry which can lead to overeating; Keep the focus on eating well (not less) and nourish yourself with healthy foods so you'll have the energy you need to care for yourself and your baby.
Continue Learning about Weight Loss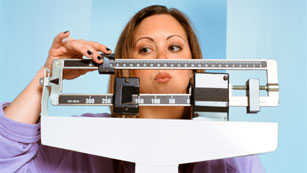 You know that to lose weight you need to burn more calories than you take in. There are only two ways to do this: reduce the number of calories you take in or increase the amount of calories you burn each day. Once you learn to do ...
this, it will be easier to maintain your weight.
More